Lebanon decides to hold onto its dissociation policy at summit in Egypt, FM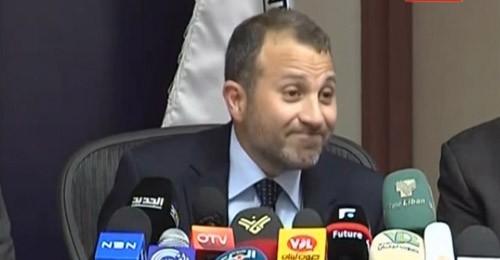 Foreign Minister Gebran Bassil reportedly delivered to the Arab League general secretariat a document to confirm Lebanon's decision to hold onto its dissociation policy in calling for the formation of a joint Arab military force.
He stressed in his document, according to As Safir newspaper, that Lebanon refuses to get involved in the differences between Arab countries.
Diplomatic sources told the daily that Lebanon dissociates itself from controversial issues, which apply to the crisis in Yemen and other countries.
The daily said that Bassil held onto three principles in the document that he delivered to the Arab League :
– The support of legitimacy in any Arab country,
– Insisting on the political solution
– Rejecting any military intervention, respecting the sovereignty of states, and refusing to interfere in their affairs.
Lebanese rivals adopted in 2012 during a national dialogue session the Baabda Declaration, which calls for Lebanon to distance itself from regional crises, most notably the one in Syria.
But the Iranian backed Hezbollah militant group reneged on the declaration and sent on orders by Iran tens of thousands of its fighters to Syria to help the regime of embattled president Bashar al Assad in its fight against the mostly Sunni rebels .
Bassil is the son-in-law of MP Michel Aoun , a stanch ally of Iran, Syria and Hezbollah . Aoun says he supports Hezbollah intervention in Syria and earlier this month he assured a pro Hezbollah newspaper that he was an integral part of the so called axis of resistance (Iran-Syria-Hezbollah).
"I am definitely in the axis of the resistance against the ISIS and Israel," Aoun told al-Akhbar newspaper on March 10.
The annual summit will be held in the Egyptian resort of Sharm el-Sheikh on Sunday
Bassil reportedly coordinated with PM Tammam Salam his stance at the summit .
This development comes after Saudi Arabia and its Arab allies launched airstrikes against the Iranian backed Shiite Houthi rebels in Yemen with the aim of reinstating the legitimate government of President Abedrabbo Mansour Hadi.
Saudi Arabia announced that it had assembled a coalition of more than 10 countries for the military intervention, including five Gulf Arab states and Egypt.
Iran condemned the Saudi action as a dangerous development