Yemen crisis: Shiite Houthi rebels advancing south towards Aden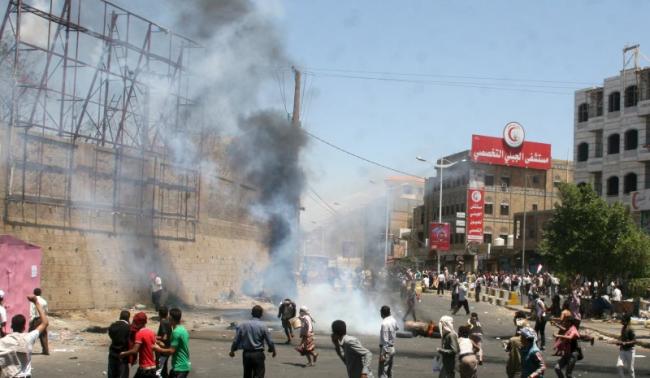 Fighters from Yemen's dominant Houthi movement have entered the Red Sea port of al-Mukha, bringing them closer to President Abd-Rabbu Mansour Hadi's refuge in Aden, security officials and residents said on Tuesday.
The advance also placed the Houthis, who seized Yemen's capital Sanaa in September, a short drive from the Bab al-Mandeb strait, a Red Sea shipping lane vital to oil shipments.
To the east, Houthi units on Tuesday entered Dhalea town, traditionally a hotbed of southern separatism, and fought gun battles with tribesmen and militias from the southern independence movement, residents said.
To the north in Taiz province, clashes erupted between anti-Houthi protesters and troops in Turba village and nearby Taiz city. The soldiers opened fire on the protesters, killing at least four and wounding several others, medical officials said.
The latest action deepened the conflict in Yemen, a perennially unstable neighbour of oil power Saudi Arabia and a frontline in U.S. efforts to combat Islamist militants.
The Houthis, a Shi'ite Muslim group backed by Iran, captured Sanaa last September. Hadi, a former general seen by the Houthis as a pawn of Gulf Arab monarchies and the West, fled the city in February and is trying to stage a comeback from a base in Aden.
Residents said the Houthi fighters entered al-Mukha, the southernmost Yemeni port before the Red Sea tapers to its narrowest point, overnight. They were accompanied by units from Yemen's divided military.
A Houthi spokesman could not be reached for comment.
Security officials said the Houthis' motive in entering al-Mukha, about 80 km (50 miles) north of Bab al-Mandeb might be to reach a new coastal highway that links the town to Aden, a 260-km drive away, rather than to obtain control of the strait.
Bab al-Mandeb – which means Gate of Tears in Arabic – links the Mediterranean Sea and Indian Ocean via the Suez Canal. More than 3.4 million barrels of oil per day passed through Bab el-Mandeb in tankers in 2013, according to the U.S. Energy Information Administration.
Hadi's forces have stationed tanks and artillery on a number of roads linking north and south Yemen and residents reported clashes between the rivals forces on Tuesday morning on a main road 125 km (80 miles) north of Aden.
An array of tribesmen, militiamen and army units loyal to Hadi are resisting the southward advance of the Houthis in skirmishes that have escalated since the weekend.
The Houthis' arrival in Dhalea mark their first inroads into the territory of the formerly independent south: The town has for years been the centre of an armed movement to secede from Sanaa.
Yemen's neighbours, Gulf Arab Sunni Muslim monarchies, have condemned the Houthi takeover as a coup. Foreign Minister Riyadh Yaseen appealed on Monday for Gulf Arab military intervention to halt the Houthi advances.
Saudi Foreign Minister Saud al-Faisal said the Gulf Arab states would take steps to back Hadi and he accused Iran of trying to sow sectarian strife in the region.
Iran calls the Houthi rise a revolution.
Reuters