UN warns that "Yemen on the edge of civil war", as tensions escalate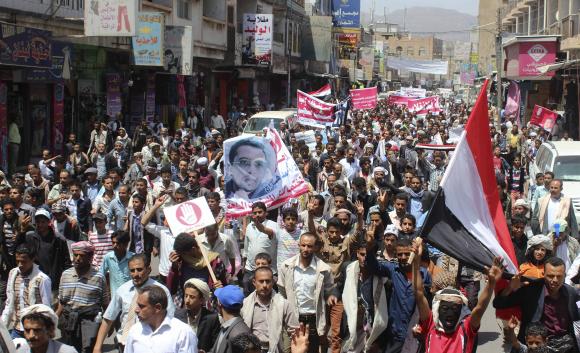 The United Nations warned on Sunday that Yemen's conflict could become an "Iraq-Libya-Syria" scenario if either side pushes for control of the country, prompting the UN Security Council to threaten further measures if the hostilities do not end.
The violence has been spreading across the Arabian peninsula country since last year when Houthi militia seized the capital Sanaa and effectively removed President Abd-Rabbu Mansour Hadi, who now seeks a comeback from the southern port city of Aden.
UN mediator Jamal Benomar briefed the 15-member Security Council on Sunday and said Yemen had been pushed "towards the edge of civil war."
"It would be an illusion to think that the Houthis could mount an offensive and succeed in taking control of the entire country," Benomar said via video link from Doha. "It would be equally false to think that President Hadi could assemble sufficient forces to liberate the country from the Houthis.
"Any side that would want to push the country in either direction would be inviting a protracted conflict in the vein of an Iraq-Libya-Syria combined scenario," he said.
Earlier on Sunday, the Iran-allied Houthis took over the central city of Taiz in an escalation of a power struggle that diplomats say risks drawing in neighbouring oil giant Saudi Arabia and its main regional rival, Iran.
The UN Security Council condemned the takeover of much of Yemen and its institutions by the Shia Houthis, urged them to withdraw, stated its support for Hadi and demanded an end to the hostilities in a statement adopted on Sunday.
The statement also threatened "to take further measures against any party" to the conflict in Yemen. In November, the council imposed sanctions on Yemen's former president, Ali Abdullah Saleh, and two Houthi leaders.
"If there are any steps we can take (to avoid civil war) then we should certainly consider them," British UN Ambassador Mark Lyall Grant told reporters before the council meeting. "Sanctions is obviously the main option."
'Grave need' for aid
In a letter to the Security Council on Saturday, Hadi asked for urgent help "in all available means to stop this aggression." Yemen's UN Ambassador Khaled Hussein Mohamed Alyemany asked the council on Sunday "to curb the drums of war."
U.S. Ambassador to the United Nations Samantha Power said the Houthis had "consistently undermined Yemen's transition."
"It is the Yemeni people who will continue to feel the consequences if all parties do not immediately cease military actions," she said in a statement. "Nearly 16 million people — 61 per cent of the population in Yemen — are in grave need of humanitarian assistance."
Yemen is also home to Al-Qaeda in the Arabian Peninsula, one of the global network's most active arms, which has carried out attacks abroad. The Security Council expressed concern that al-Qaeda could benefit from the deterioration in Yemen.
Reuters