Singapore's founding father, Lee Kuan Yew, dies at 91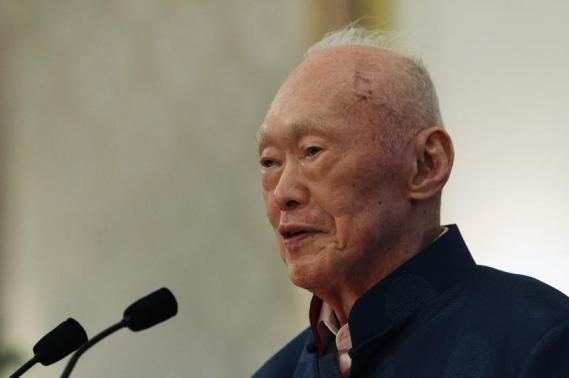 Lee Kuan Yew, Singapore's first prime minister and architect of the tiny city-state's rapid rise from British military outpost to global trade and financial center, died on Monday aged 91.
Although Lee had receded from public and political life over the past few years, he was still seen as an influential figure in the government of Prime Minister Lee Hsien Loong, his oldest son.
"The Prime Minister is deeply grieved to announce the passing of Mr Lee Kuan Yew, the founding prime minister of Singapore," the Prime Minister's Office said in a statement.
It said he had died at 3:18 a.m. local time (3:18 p.m. EDT) at Singapore General Hospital, where he had bee admitted on Feb. 5 suffering from pneumonia.
Thousands of people had been leaving flowers and cards at the hospital over the past three days, praying for his recovery.
"Thank you for giving us, Singaporeans, a great nation to live in, a country that I can be proud of, a country where I can go out a midnight and not be afraid," one Singaporean, Nurhidayah Osman, wrote on the prime minister's Facebook page in reaction to Lee's death.
"Harry" Lee became Singapore's first prime minister in 1959 and held onto power for over three decades, overseeing the island's transformation from a port city battling crime and poverty into one of Asia's most prosperous nations.
Even after stepping down as leader in 1990 – signing off as the world's then longest-serving prime minister – the acerbic Lee stayed on in the cabinet until 2011. He was a member of parliament until his death.
As leader, Lee combined market-friendly policies with strict controls over the press, public protest and his political opponents. He was hailed by some as a visionary, yet criticized by others as authoritarian.
Lee's death and his son's expected retirement within the next few years will mark the end of an era, but industry leaders say any change of the guard will have little impact on business in the city-state, renowned for its robust institutions.
Thousands are expected to pay their respects at the Istana, or presidential palace, a grand colonial-era building in the bustling downtown shopping district of Orchard Road.
"My tears welled up as I received the sad news," said another former Singapore prime minister, Goh Chok Tong, who succeeded Lee. "He was my leader, mentor, inspiration, the man I looked up to most," Goh posted on Facebook.
Dozens of world leaders are expected to travel to Singapore for Lee's funeral. His wife, Kwa Geok Choo, was the last Singaporean to be given a state funeral. In 2010 her coffin was carried on a ceremonial gun carriage to a suburban crematorium.
"As Singapore marks its 50th anniversary of independence this year, its founding father will be remembered as one of the most inspiring Asian leaders," U.N. Secretary-General Ban Ki-moon said in a statement.
STRAIGHT TALKING
Lee, a British-educated lawyer, is widely credited with building Singapore into one of the world's wealthiest nations on a per capita basis with a strong, pervasive role for the state and little patience for dissent.
"His was a voice that spoke clearly and directly, even if his views might be controversial," said Simon Tay, chairman of the Singapore Institute of International Affairs.
Lee co-founded the People's Action Party (PAP), which has ruled Singapore since 1959 and led the newly born country when it was separated from Malaysia in 1965.
He stepped down as prime minister in 1990, handing power to Goh Chok Tong, but remained influential as senior minister in Goh's cabinet and subsequently as "minister mentor" when his eldest son, Lee Hsien Loong, became prime minister in 2004.
The older Lee left the cabinet in 2011 and had cut down his public appearances in recent months.
Lee is credited with transforming Singapore from a small trading outpost into a city of gleaming office towers. It is now home to many of the world's wealthiest businessmen and women, lured by the state's famously low taxes.
He advocated free-wheeling market capitalism while keeping tight control over social behavior, from banning chewing gum to caning those caught painting graffiti on public property.
Lee was renowned for his wit and firebrand comments. He had few kind words for former Malaysian prime minister Mahathir Mohamad, and he dismissed the "dull life" of New Zealanders.
He wrote a handful of books and voiced strong opinions on everything from eugenics and the "slothful" sport of golf to fengshui and astrology, which he decried as "utter rubbish!"
Reuters