Obama-Netanyahu's toxic relationship has reached a new low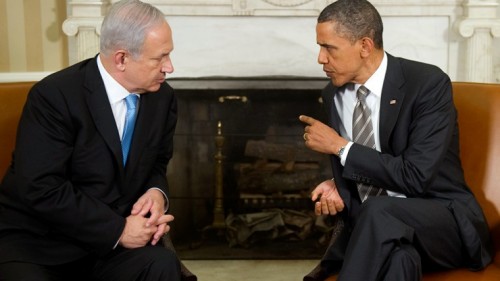 US President Barack Obama has said that he takes Israeli Prime Minister Benjamin Netanyahu "at his word" that he cannot support a separate Palestinian state alongside Israel, as he dismissed the claim that Netanyahu has softened his stance since winning re-election.
In an interview published with The Huffington Post, Obama said he told Netanyahu in a phone call Thursday, "it is going to be hard to find a path where people are seriously believing that negotiations are possible" – after the Israeli leader rejected the idea of a Palestinian state during the elections.
Critics say Netanyahu made a last-ditch attempt to spur his supporters to the polls Tuesday, after he also warned that Arab citizens were voting "in droves" and endangering years of rule by his Likud Party.
The comments drew accusations of racism from Israeli Arabs and a White House rebuke.
In his first public comments on the matter since Netanyahu's victory in Tuesday's elections, Obama said the prime minister's pre-election statement that there would be no Palestinian state on his watch had all but foreclosed the chance for negotiations to resolve the Israeli-Palestinian conflict.
"We take him at his word that it wouldn't happen during his prime ministership, and so that's why we've got to evaluate what other options are available to make sure that we don't see a chaotic situation in the region," Obama said.
Recounting the traditional congratulatory call on Thursday that President Obama waited two full days to place, the president also described a strongly worded lecture that he gave Netanyahu about an Election Day Facebook posting in which the Israeli leader warned that Arab voters were going to the polls "in droves," an assertion widely interpreted as an attempt to suppress the Arab vote.
"We indicated that that kind of rhetoric was contrary to what is the best of Israel's traditions – that although Israel was founded based on the historic Jewish homeland and the need to have a Jewish homeland, Israeli democracy has been premised on everybody in the country being treated equally and fairly," Obama said.
"If that is lost, then I think that not only does it give ammunition to folks who don't believe in a Jewish state, but it also, I think, starts to erode the meaning of democracy in the country.
"
The president's comments were the latest evidence that the toxic relationship with Netanyahu, has reached a new low, and that the White House is now engaged in a remarkably public feud with the Israeli prime minister.
Obama said the disagreements would not interfere with the military and intelligence cooperation between the United States and Israel.
But he made clear that his administration was unhappy with the current policies under Netanyahu.
"While taking into complete account Israel's security, we can't just in perpetuity maintain the status quo, expand settlements – that's not a recipe for stability in the region," Obama said.
On the possibility of reaching an international accord with Iran to rein in its nuclear programme that Israel opposes, Obama offered a measured assessment of the chances for reaching agreement.
"They have not yet made the kind of concessions that are, I think, going to be needed for a final deal to get done," Obama said of the Iranians during the interview.
"But they have moved, and so there's the possibility.
"
He said his objective was to strike a deal within "weeks, not months," although he said it was "premature" to suggest there was a draft of an agreement.
The Nation