An Iran framework agreement is not in sight, report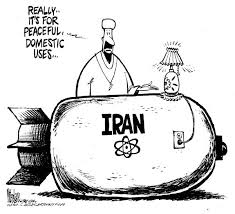 Iran is pressing major world powers to agree to start easing some restrictions on its atomic program earlier than Western countries are willing to accept, Western and Iranian officials told Reuters.
This is one of the sticking points that divide negotiators from Iran, the United States, Britain, France, Germany, Russia and China in the Swiss city of Lausanne as an end-March deadline for a framework agreement approaches, the officials said.
So far a framework agreement is not in sight.
One of the main sticking points, Western officials say, is Iran's insistence on the right to conduct unfettered research and development into advanced enrichment centrifuges, machines that purify uranium for use as fuel for reactors or, if very highly enriched, for weapons.
"The problem is about the number of centrifuges that Iran wants to keep for R&D … which is one of our red lines," a senior Iranian official said on condition of anonymity.
Another involves the duration of the deal. U.S. President Barack Obama told Reuters in an interview earlier this month that Washington wanted Tehran to restrict sensitive nuclear activities for at least 10 years as a cornerstone of an agreement that would allow for a gradual easing of sanctions that have crippled Iran's economy.
The French are demanding that restrictions on Iran's atomic work be in place for at least 15 years, followed by a 10-year period of intense monitoring by the U.N. International Atomic Energy Agency, a European official said.
That is so far unacceptable to the Iranians, who want some restrictions on enrichment activity to be eased before a deal expires, Iranian and Western officials say.
"Iran wants the limitations to be phased out incrementally over the course of the deal," a Western official told Reuters on condition of anonymity. He added that Iran wanted the phasing-out to begin in a number of years that is equal to "single digits."
Another Western official backed those remarks, adding that the number of years before the easing would begin was "not nine." An Iranian official said the easing of restrictions should begin no later than seven years from the start of a deal.
Another Western official said Iran had raised that to eight years, a number he described as "insufficient."
There have been some areas of rough agreement. One of the central issues under discussion from the beginning was the number of centrifuges Iran would be permitted to operate. Western officials have said that number of would likely be around 6,000 if an accord is reached.
There would also be different time restrictions for different types of centrifuges, if an agreement is reached.
But the disagreements are significant. Another problem is the amount of uranium Iranwould be permitted to enrich to low levels each year. Originally Iran wanted to enrich 2.5 tonnes per year but is willing to limit that to 500 kg.
One Western official said anything above 250 kg is a problem because that is the amount needed for a weapon if used as raw material for further enrichment to weapons-grade levels.
Still, Western officials said compromise was theoretically possible and the only thing that would prevent it is if Iran's supreme leader, Ayatollah Ali Khamenei, decided that the United States and its European allies could not be trusted. So far, they said, the Iranians have not made any serious concessions.
"We can probably reach an agreement on all problematic areas, all of them, if the Iranian leadership wants it," a Western official said. "The concessions have been one-sided so far. We have moved and the Iranians, really, have not at all."
An Iranian official said Khamenei had made it clear to members of the Iranian team that "no roll-back in Iran's nuclear activities is acceptable."
Another sticking point is Iran's demand that all U.N. Security Council sanctions, along with the most crippling U.S. and European energy and financial restrictions, be lifted immediately. Western officials say that some U.N. restrictions can be eased immediately but those related to proliferation would stay in place.
"Iran is very firm on the U.N. sanctions. All the sanctions, economic, proliferation-related ones and others should be lifted at once," the Iranian official said. "This is a very difficult topic."
The goal of the negotiations is to arrive at an arrangement whereby Iran would need at least one year to produce enough fissile material — high enriched uranium or plutonium — for a single atomic weapon, should Tehran choose to produce one. That is known as the "break-out" time.
Iran denies allegations from Western powers and their allies that it is seeking the capability to produce an atomic weapon.
Another sticking point involves future monitoring of Iran's nuclear sites and the resolution of questions related to intelligence about Tehran's past nuclear activities.
Western powers insist that the U.N. International Atomic Energy Agency should have broad inspection powers to police compliance with any deal, especially since Iran has refused to answer some IAEA questions about past atomic work that could be related to weapons research. Tehran is uncomfortable with that.
Iran says Western intelligence about past arms-related work is fabricated. The IAEA says Tehran has not enabled it to resolve doubts about its past atomic work.
Reuters