U.S. warns against attempts to finance terrorism via Lebanon's Banks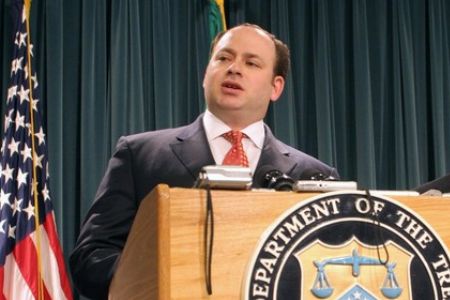 During a visit to Beirut U.S. Assistant Secretary of the Treasury for Terrorist Financing Daniel L. Glaser reportedly warned against attempts to involve Lebanese banks in money laundering operations to finance terrorism.
According to report published by al-Akhbar newspaper on Wednesday , Glaser, who met with Central Bank Governor Riad Salameh and a delegation from the Lebanese Association of Banks, said that funds to the Islamic State of Iraq and the Levant (ISIL) from some Gulf countries could pass through Lebanon, Iraq and Turkey.
He pointed out that "banks in Lebanon could be used to reach the global banking sector," al-Akhbar added
The U.S. official also discussed measures that would reduce the flow of illicit money, which could be used to fund terrorist organizations and operations.
For his part, head of the Association of Banks in Lebanon Francois Bassil stressed Lebanon's keenness to combat money laundering and the funding of terrorism.
Lebanese banks are lobbying the Parliament to quickly endorse three bills designed to tighten anti-money laundering and terrorist funding procedures, Bassil said Tuesday.
"ABL is lobbying strongly to enact those laws and to assure Lebanon's adherence to the United Nation's 1999 International Convention for the Suppression of the Financing of Terrorism," Bassil told Glaser.
The first proposed law seeks to further amend the anti-money laundering law 318 to include new financial crimes, such as the protection of intellectual property rights.
The second draft law regulates the transfer of funds across borders.
The third concerns the exchange of tax information as part of the Organization for Economic Cooperation and Development norms to combat tax evasion.
Lebanese bankers have pressed the Parliament to pass these bills before the end of 2015 in order to enhance Lebanon's image further in the international community.
But it is still not clear whether Parliament will be able to pass these draft laws given the deep split among lawmakers over other important pending issues, such as the election of a president and the new election law.
"Recent developments involved also the issuance by the Central Bank of Lebanon of a new circular in January 2013, No 128, requiring the banks and financial institutions to establish a compliance department of two units: one in charge of identifying, mitigating and preventing legal risks and the other in charge of verifying compliance with anti-money laundering and counterfinancing of terrorism procedures, laws and regulations in force," Bassil said.
Glaser, according to a statement issued by the U.S. embassy in Beirut on Tuesday, encouraged Lebanese authorities and financial institutions to continue their work to combat the threat of illicit financing and prevent attempts to evade U.S. and international financial sanctions from Iran and Syria, in particular.
He also met with Prime Minister Tammam Salam, Minister of Finance Ali Hassan Khalil, Minister of Foreign Affairs Gebran Bassil and Interior Minister Nouhad al-Mashnouq.
He reiterated the U.S. commitment to work with Lebanon to continue protecting Lebanon's financial system from abuse by terrorism threats.