Hezbollah members linked to global corruption, money laundering , says Rifi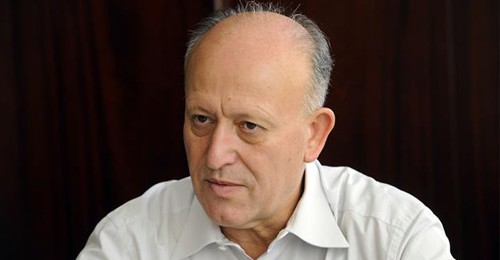 Lebanon Justice Minister Ashraf Rifi revealed on Monday that a number of Hezbollah members are involved in corruption and money laundering worldwide , pointing out that several were detained in Lebanon on the same charges.
"A number of cases have been unveiled related to Hezbollah's illegal activity and evading custom fees and taxes in Beirut's port and airport," Rifi said in an interview with the Saudi newspaper al-Watan.
The minister expressed fear over the uncontrolled activity of Hezbollah in Lebanon, citing judicial cases against the party's members around the world, which are linked to corruption crimes and money laundering.
Asked about the cooperation between Riyadh and Lebanon to extradite Hezbollah members in Saudi Arabia, who are suspected of carrying out illegal activity on behalf of the party, Rifi described it as "firm."
"Today, cooperation is close with the Saudi judicial authorities and the country's mission in Beirut… our hands will always be extended to the Saudis just like their hands have always been extended to us," the minister remarked.
Hundreds of Lebanese, mostly Shiite Muslims, have been quietly deported from the Gulf Cooperation Council countries since 2013 after Hezbollah joined Syrian government forces in Syria's civil war. Last Friday the UAE decided to deport 70 Lebanese expatriates and another 120 Lebanese are expected to be deported in the near future from the United Arab Emirates , al-Akhbar newspaper reported on Monday.
The Gulf Cooperation Council — which includes Saudi Arabia, Kuwait, Bahrain, Qatar, Oman and the UAE — has said the bloc would crack down on Hezbollah members as part of a joint effort to limit the group's "financial and business transactions."
Hezbollah says the group has no business interests in the Gulf. However, there are more than half a million Lebanese working in the Gulf states, including tens of thousands in Saudi Arabia. Many are Shiites.
Gulf states are worried about the rise of Shiite Iran's influence throughout the Arab world and are extremely concerned about Iran's agenda for the region. Iran continues to refuse to return to the  UAE  the 3  islands that were seized in 1971  by the Shah.
Americas
Most of Hezbollah's drug smuggling and money laundering activity has  reportedly taken place in  the Americas both north and Latin America
In 2008, it was reported that an international cocaine smuggling and money laundering ring with alleged connections to Hezbollah was dismantled in Colombia. It was claimed that 12% of the group's profits went to fund Hezbollah.
In 2009 a Washington, D.C. think tank, reported on the allegations connecting Hezbollah to drug trafficking and money laundering incidents in Curaçao.
In 2011 the United States Treasury designated Lebanese Canadian Bank SAL a "primary money laundering concern" for its role in money laundering for Hezbollah funder and drug kingpin Ayman Joumaa.
Operation Smokescreen identified an illegal multimillion-dollar cigarette smuggling fundraising operation in the United States. Mohammed Hammoud was convicted in the United States for "violating a ban on material support of groups designated as terrorist organizations".  Hammoud claimed  the funds were  to "support Hezbollah's efforts to distribute books at schools and improve public water systems."