Iran-led Shiite militiamen pause as they await reinforcements in battle for Tikrit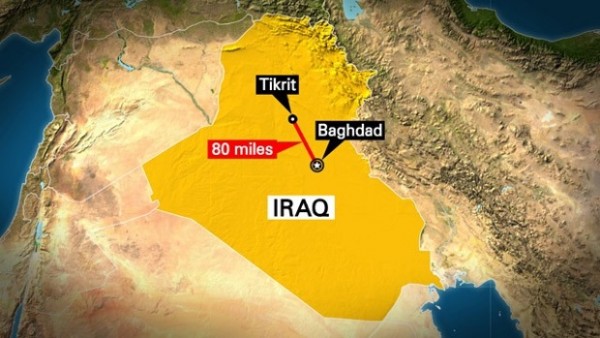 The Iran-led Shiite militiamen and Iraqi forces battling to wrest full control of the city of Tikrit from Islamic State militants paused their offensive for a second day on Saturday as they awaited reinforcements, a military source said.
More than 20,000 troops and Iranian-backed Shi'ite fighters entered Tikrit on Wednesday, having retaken areas to the north and south in Iraq's biggest offensive against the militants yet.
Islamic State fighters still hold about half the city and have booby-trapped buildings and laid improvised explosive devices and roadside bombs, the source in the local military command center told Reuters.
More "well-trained forces" were needed for the street-by-street battles that recapturing the city would require, the source said, speaking by phone from Tikrit. He did not give a timeline for their arrival.
Victory for Iraq's Shi'ite-led government in Tikrit against the Sunni insurgents could provide a major boost to its forces as a broader confrontation with Islamic State looms in Mosul, the largest city in the north.
"We do not need a large number, just one or two thousand. We need professional personnel and soldiers," the source told Reuters.
Military commanders had "reached a decision to halt the operation until a suitable, carefully set plan is in place" to break into central Tikrit, the source said.
Islamic State overran Iraq's weakened army last year, seizing large amounts of territory where they have declared a caliphate and imposed brutal rule.
In Tikrit, which lies about 160 km (100 miles) north of Baghdad, the extremist group still controls central districts and a complex of palaces built by Saddam Hussein, the executed former Iraqi leader.
Iraqi security expert Hisham al-Hashemi doubted the city could be retaken with ground forces only, saying airpower was required to clear the many buildings which the IS fighters had rigged with explosives.
As the army and Shi'ite militias, who are known as Hashid Shaabi (Popular Mobilisation), recaptured IS-held towns near Tikrit, a small number of residents who had fled the militants' advance began to return home. Nearly two million Iraqis were displaced last year and officials have said that securing their return is a priority.
On Friday, some 200 families went home to the town of al-Alam with a security personnel escort from the government-held town of Dhuluiya, police sources there said.
CLASHES ELSEWHERE
While the offensive on Tikrit has been put on hold, clashes in the environs continue. In the town to the north of al-Malha, near the Beiji oil refinery, IS fighters were fighting police and Hashid Shaabi forces, local police said.
Iraqi forces were advancing toward the strategically important al-Fatha bridge, which was blown up by the militants this week, Interior Ministry spokesman Brigadier General Saad Maan told Reuters.
Kurdish peshmerga forces, backed by Shi'ite militia fighters, have been attacking Islamic State-held towns and villages south and west of the oil-rich city of Kirkuk, peshmerga sources said.
Their advances, unlike the Tikrit battle to the southwest, have been backed by sustained air strikes from a U.S.-led coalition.
Islamic State also carried out attacks in Ramadi, about 90 km west of Baghdad. Two suicide car bombers killed at least two policemen and wounded more than 50 others after one of the explosions caused a building to collapse, a police source said.
The bombings were followed by fierce clashes involving mortars between IS fighters and Iraqi security forces in the center of Ramadi in which two policemen and seven civilians were killed, the source said.
On the outskirts of Samarra, a sacred Shi'ite city being used as a rear base for the Tikrit offensive further north, militants attacked an Iraqi army unit on Friday, two security officials said. One said 11 soldiers had been captured by the militants.
A bomb near a busy market killed 4 people and wounded 11 in the Sab al-Bour neighborhood of northern Baghdad, police and medics said. No one immediately claimed responsibility for the attacks.
Reuters