Israel: Signs of panic in Netanyahu's campaign as polls show he is facing defeat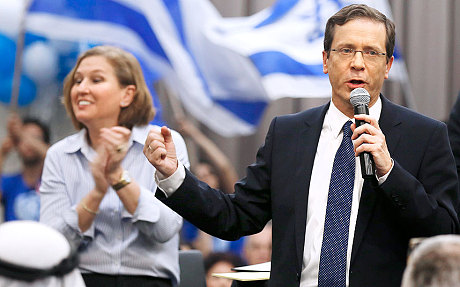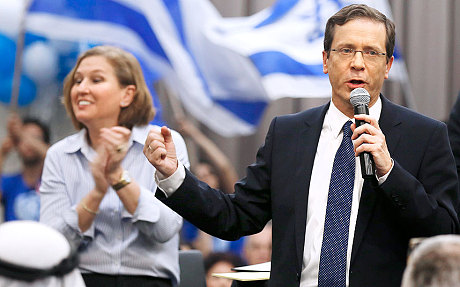 Benjamin Netanyahu's re-election prospects were looking increasingly grim on Wednesday amid fresh polls showing a strong lead for a buoyant Left-wing opposition and signs of panic in the Israeli prime minister's own campaign.
Less than a week before a general election on March 17, the Zionist Union – an alliance of Isaac Herzog's Labour party and Hatnua, led by Tzipi Livni, a former foreign minister – had a lead of three to four seats over Mr Netanyahu's Likud party, according to two separate surveys.
One poll conducted for Channel 2 News suggested that Zionist Union would win 25 seats compared with 21 for Likud. The Impression of upward momentum for the opposition was reinforced at a boisterous rally in the southern town of Beesheba on Tuesday evening, where activists and ordinary voters said they detected the air of political change.
"We have been building momentum and it looks like change is coming," said Erel Margalit, a Labour MP. "It makes me more optimistic than I was a few weeks ago. The sense of victory and change is in the air."
The optimism was palpable as Mr Herzog and Ms Livni arrived at the rally at Beersheba's Leonardo Hotel, greeted by loudly cheering groups of youth workers wearing blue T-shirts emblazoned with the slogan: "We are the revolution."
"We are here because of an understanding that we cannot leave this country in the hands of Netanyahu," said Ms Livni, whom the prime minister sacked three months ago as justice minister.
The Zionist Union's positive outlook has been mirrored by evidence of a rising fear of defeat within Likud ranks.
That was crystallised by a text message sent to the party's supporters, reading: "We are really in danger of losing! We must save the day and make sure that every single one of our friends/acquaintances/family makes it to the polls on election day and votes for the Likud. Otherwise we will suffer a left-wing government made up of Meretz [a Left-wing party] and the Arabs. Wake up!"
While Likud has trailed the Zionist Union in several polls in recent weeks, it has been widely assumed that Mr Netanyahu stands the best chance of forming a stable coalition because of his ability to win over Right-wing and religious parties.
However, his coalition options narrowed on Wednesday when Yair Lapid, his former finance minister and leader of the centrist Yesh Atid party, declared for the first time that he would not support a new government led by him.
"There is no possibility that we will recommend Netanyahu," Mr Lapid said. "Everyone understands that because I think that he should not be the next prime minister. He needs to understand that things have changed. There is no longer a Left and Right. There is a Right-wing, a centre and there is a Left-wing."
Israel's proportional representational voting system all but precludes one party winning an outright majority, making coalition governments inevitable.
The pessimistic aura surrounding Mr Netanyahu's campaign seemed manifest this week when the media was barred from accompanying him on a campaign visit to Jerusalem's historic Mehane Yehuda market – normally a bedrock of Likud support – apparently out of fear that he would be accosted by dissatisfied voters.
Mr Netanyahu spoke on Tuesday of "an attempt to overthrow the government", a venture he claimed had international financial support.
Writing in Maariv newspaper, Ben Caspit, a seasoned Israeli commentator, said Mr Netanyahu's conduct was reminiscent of a previous election when he was deposed as prime minister. "These days are reminiscent, almost exactly, of the 1999 campaign," he wrote. "The same unraveling campaign, the same hollow messages, the same hackneyed claim about a 'plot to topple me.' As if the very thought of replacing him as prime minister were heresy."
Telegraph