4 years of Syria war leave families uprooted, separated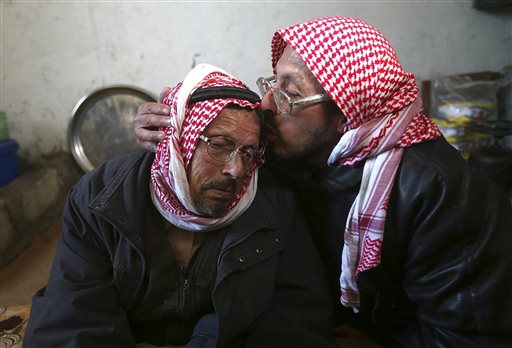 Mohammed Bakkar spends his days with his father and son in a small classroom in Lebanon near the Syrian border, where they cook, eat, wash and sleep, waiting for the day they can reunite with the rest of their family.
Bakkar's mother, wife and four other children are hundreds of miles away in Jordan's Azraq refugee camp, squeezed into a white prefab trailer of corrugated metal. When they fled to Jordan after government attacks in their village in Syria in 2013, they thought it would be just a few weeks until they were reunited. It has been more than two years.
The family's story offers a snapshot of the enormous human tragedy caused by the Syrian civil war. Marking its fourth anniversary this month, the war has claimed the lives of more than 220,000 people and has driven more than 11 million of the prewar population of 23 million from their homes.
Of those, more than 3.8 million have fled to neighboring nations. They now make up what many fear will be a new semi-permanent diaspora, scattered around the region. Some languish in organized camps or shelters. Some scrounge on their own for housing in cities and towns. Others wash up in impromptu tent camps with little aid or support. They live hemmed in by lack of money or documents or by state restrictions.
"My suffering is strong. I haven't seen my family for two years and sometimes I fear that I will never see them again," said the 44-year-old Bakkar, tearing up as he sat on the floor of his room before a metal bench lined with cooking pots, a jar of olives and other food. The school where he is living in the border village of al-Rama houses 22 Syrian families, who share toilets and one room with running water where they can wash pots and dishes.
"I don't know how we live. We don't enjoy food or drinks… Every day that passes is like a year," said Bakkar, sitting next to his 80-year-old father Ahmad in a humid classroom.
Syria as well is being reshaped by the war, which has escalated into a sectarian conflict between rebels mainly from the Sunni Muslim majority and the government of President Bashar Assad, which is dominated by his Alawite sect, an offshoot of Shiite Islam.
The Bakkars were farmers in the Syrian village of Eastern Bouyada, near the Lebanon border. The region was predominantly Sunni but most of the community fled as Assad's troops and Lebanese Shiite Hezbollah guerrillas overran the area in 2013, while Alawites, Shiites and Christians remained. The Bakkars fear they will never return and that the government wants to permanently change the area's demographics.
The family had enjoyed a good life. They owned their homes and plots of land and raised cows. Eastern Bouyada became one of the first villages to fall under control of Sunni rebels after the uprising began in March 2011. That brought repeated, heavy bombardments from government forces on the village.
In 2012, shelling hit the home of Bakkar's parents as his mother, Fatima, was making pickles. She lost both her lower legs. Bakkar's son-in-law, who had joined the rebels, was killed in the fighting. In early 2013, a rocket hit near Bakkar's home, killing his 10-year-old daughter Amena.
After that, the family began thinking about leaving. The women left first. In April 2013, Bakkar's wife, Hamida, two teenage daughters and two young sons, and Bakkar's mother Fatima were smuggled into Jordan. They registered with the U.N. refugee agency and were placed in Jordan's Zaatari refugee camp. A few months later, they were moved to the newer, cleaner Azraq camp.
Bakkar, his father and his son stayed behind to get the family's affairs in order. They planned to follow the others.
"I didn't realize then that I wouldn't see them for the next two years," Hamida, 43, told the AP in Azraq.
Government troops and Hezbollah fighters overran Eastern Bouyada and neighboring towns and villages in June 2013. Bakkar and the others fled to nearby villages until a smuggler helped them across the border into Lebanon.
Separated by war, the two halves of the family are struggling to get back together. On a recent day, Bakkar and his wife spoke on the phone. He told her he didn't have the money to be smuggled into Jordan — 15,000 Syrian pounds, around $80, per person. Lebanon recently imposed visas on Syrians, making it all the more difficult for refugees to re-enter if they leave.
As they spoke, their daughter Rukaya cried. "I miss my father very much," she said.
For Bakkar, the situation is all the more difficult because he cannot even go visit his daughter, also named Fatima, who lives in the Lebanese town of Arsal. He does not have documents to pass through security forces' checkpoints ringing the town, a frequent scene of battles between Lebanese troops and militants from Syrian. Fatima has lived with her two sons in the town since the death of her husband two years ago.
Ahmad Bakkar, Mohammed Bakkar's father, tears up thinking of his own wife. He is also separated from his other children — a son who remains in the southern Syrian province of Daraa and two daughters, one in Jordan, the other in Turkey.
"I spend three quarters of my day crying. I wish someone would take me to Jordan," he said. "My heart is on fire from missing my children and grandchildren."
My Way/AP