Lebanon FM calls for Arab awakening to confront the threat of terrorism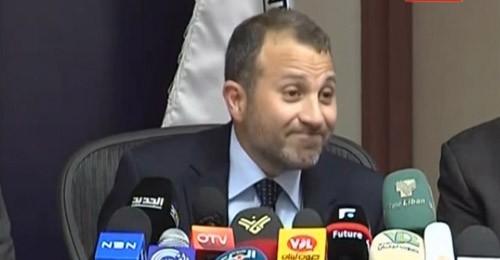 Foreign Minister Jebran Bassil warned on Monday about the threat of terrorism on Lebanon and the Arab world, and called for an Arab awakening to confront it.
"We need an Arab awakening to confront it," he declared during a meeting of Arab foreign ministers held in Cairo ahead of an Arab League summit scheduled for March 28.
He said: "Airstrikes against the Islamic State group were not enough to combat it, which is why the Lebanese army chose ground operations to face it, adding ": "The army however needs military and financial support."
"Our identity is the dearest thing to us in facing terrorism. We have enough heritage and history to prove that we are in the heart of the battle," he stressed
During the past months, the army clashed on several occasions with ISIS and militants from other extremist groups that are entrenched along the Lebanese-Syrian border.
In August, jihadists engaged in battles with the army in the border town of Arsal and kidnapped dozens of servicemen.
A few of the captives were released, four were executed, while the rest remain held.
An international coalition led by the United States began in 2014 launching airstrikes against ISIS positions in Iraq and Syria, where it has seized large swathes of territory.