Several Israeli policemen injured in attack by Palestinian driver in Jerusalem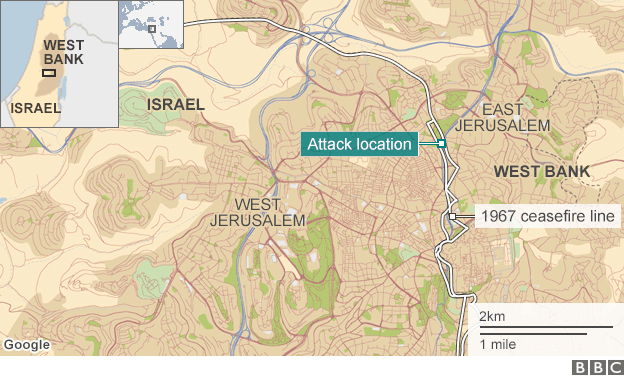 A Palestinian has rammed his car into a group of Israeli pedestrians in Jerusalem, injuring four policewomen and another bystander, police say.
It happened on the seam of East and West Jerusalem, close to the site of a series of similar attacks last year.
Police say the driver, from East Jerusalem, tried to stab people before he was shot and wounded by officers.
The incident came shortly after Palestinian officials voted to halt security co-operation with Israel.
Those injured in the attack are being treated in hospital. None of them are said to be seriously wounded.
Police spokeswoman Luba Samri called the incident a "terror attack". It took place as the streets were busy with people celebrating the Jewish holiday of Purim.
The Palestine Liberation Organisation (PLO) decided to suspend co-operation, part of 1993 peace accords with Israel, at a meeting on Thursday night.
It follows Israel's decision to suspend the transfer of taxes to the Palestinians after they applied to join the International Criminal Court to pursue war crimes allegations against Israel.
Last year, Palestinian militants killed three Israelis and an Ecuadorian woman in attacks using vehicles in Jerusalem as tensions soared between Israel and the Palestinians.
Israel has occupied East Jerusalem since the 1967 Middle East war and annexed it in a move not recognised internationally.
It regards the whole of Jerusalem as its "eternal and indivisible" capital, while the Palestinians want East Jerusalem as the capital of a future Palestinian state.
BBC