Syrian barrel bombs kill at least 18 in Aleppo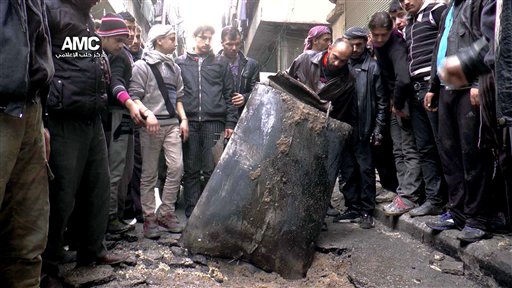 BEIRUT, Lebanon- Government helicopter gunships on Thursday bombed the northern Syrian city of Aleppo, killing at least 18 people and wounding dozens, activists said.
The bombings came even as Syrian President Bashar Assad vehemently denied in an interview with Portuguese state television that his military drops such explosives, known as barrels bombs, on civilians.
"You are talking about massive propaganda," Assad said in the interview.
The aerial attack on a rebel-held neighborhood was in apparent reprisal for an attack that was carried out one day before by opposition fighters against a building used by the government's state intelligence services.
Syrian aircraft have dropped hundreds of barrel bombs over the course of the civil war, killing thousands of civilians and causing widespread destruction. The crude tactic — which often involves hurling explosive-filled canisters from helicopters — has been widely criticized by human rights groups because the bombs are not precise.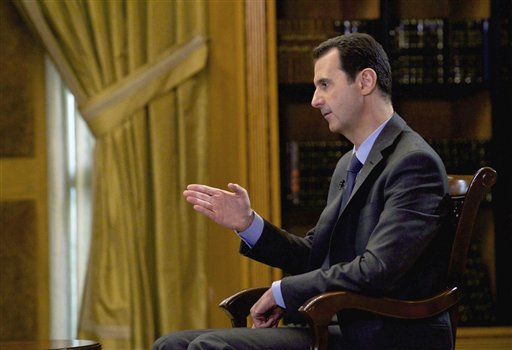 An Aleppo-based activist who goes by the name Abu Raed said one barrel bomb struck a shop that sells gasoline and diesel fuel. He said a fire broke out and that many bystanders were burned.
Abu Raed said the strike on the Qadi Askar neighborhood killed at least 20 people, while the Britain-based Syrian Observatory for Human Rights said put the number at 18 dead.
The aerial attack come after the Nusra Front, al-Qaida's Syrian affiliate, and other radical Islamic factions launched an assault on the intelligence building in Aleppo, blowing up part of the facility before trying to storm it.
"This is revenge," Abu Raed said referring to the airstrikes.
Syria's crisis which began in March 2011 has killed more than 220,000 people, a figure that was disputed by Assad in the interview as an exaggeration.
"It's a human disaster we live in Syria," he said.
Assad also predicted that the 5,000 moderate rebels that the U.S. hopes to train to fight against the Islamic State group will eventually join the militants. He was referring to Western-backed rebel factions that have already fought and been defeated by IS and the Nusra Front.
Last month, the U.S. Defense Department said that the U.S. has screened about 1,200 moderate Syrian rebels to participate in training in Turkey, Saudi Arabia and Qatar. The U.S. Congress has passed legislation authorizing the training and providing $500 million for training about 5,000 rebels over the next year.
My Way / AP