Al Nusra identifies all 4 commanders killed in Idlib, Syria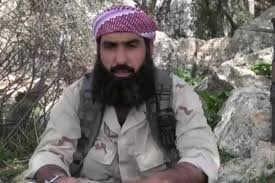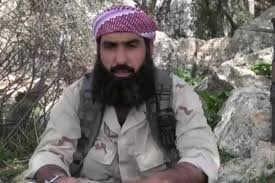 Abu Homam al-Shami the top   military commander of Syria's al-Nusra Front militant group has been killed in an air strike, the group has said and named the 3 other commanders killed  along with him as  as Abu Musab Falastini, Abu Omar Kurdi, and Abu Baraa Ansari.
Details of the attack are still  unclear ,  but Syria's state-run news agency said the army had targeted  the Nusra leaders as they met in northern Idlib province,  describing it as  a "unique operation"the Associated Press reported.
The Qaeda linked al Nusra Front is one of the most powerful groups fighting to overthrow Syrian President Bashar al-Assad.
It was behind a major attack on the Air Force Intelligence headquarters in Aleppo on Wednesday.
Other reports indicated that the Nusra Front commanders were killed  by a coalition airstrike that hit a high-level Nusra Front meeting in Idlib, but the coalition has denied having conducted any airstrikes in the province in the past 24 hours.
Abu Anas al-Shami , the spokesman for the Al Nusra  also  claimed that al-Shami and the other  3 commanders were killed   by  a coalition airstrike near the Idlib village of Salqeen. He also claimed that al-Shami  was a commander in the Farouq brigade  in Afghanistan and serves as a member of the Shura Council of the al Nusra Front
Al-Shami is one of the most senior Nusra Front figures to be killed since it formed in 2012 and has fought in Afghanistan, Iraq and Syria, Reuters news agency reported, quoting sources.
The Nusra Front has fought Western-backed rebels this year, seizing their territory and forcing them to disarm so as to
consolidate its power in northern Syria.
After Thursday's attack, the Nusra Front instructed  its members not to provide any  information to the media, the Reuters sources said.
The weakness of the Western backed  Syrian opposition and the growing power of the al Nusra Front and Islamic State has
complicated diplomatic efforts to end the Syrian conflict that has killed over 220,000 people.
Hezbollah's mouthpiece Al Manar named  Mohammad Abdol Salam al-Lobnani, as the fifth  commander  killed and said a total of 18 comanders and members of al Nusra were killed in the airstrike
Abu Mohammad al-Goulani,  al Nusra's top leader, was injured in the airstrike , according to Al- Manar