Lebanon minister refuses to sign Civil Marriage contracts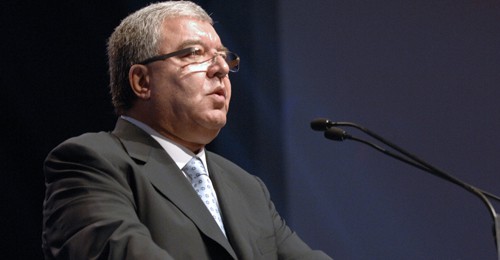 Lebanese Interior Minister Nouhad al-Mashnouq reportedly would not approve the registration of civil marriage contracts performed in Lebanon despite the pressures exerted on him .
Mashnouq told al-Akhbar newspaper in a report published on Monday that his stance "would not change."
"Civil marriage does not come through an administrative decision. The solution lies in coming up with the law that regulates it," he told the daily.
Mashnouq's stance comes after hundreds of activists marched on Sunday from the American University of Beirut campus to the interior ministry to demand support for civil marriage.
They accused the minister of blocking the official recognition of civil marriage contracts performed in Lebanon.
The activists claim that more than 40 contracts that have been submitted to the ministry, but Mashnouq told al-Akhbar there are only 13 contracts.
Most faiths have their own regulations governing marriage, divorce and inheritance, and mixed Christian-Muslim weddings in Lebanon are discouraged unless one of the two converts.
In 2013 qnd for the first time since 1936, when the French Mandate governing Lebanon instituted sectarian personal status laws in Lebanon, two Lebanese citizens were able to conduct a civil marriage on Lebanese territory — without being forced to resort to the religious authority of over the 18 legally recognized religious sects.
Interior Minister Marwan Charbel took the unprecedented step of registering the civil marriage contract of Nidal Darwish and Kholoud Sukkarieh in April 2013 after former president Michel suleiman welcomed it.
Like Mashnouq, former Lebanese Prime Minister Nagib Mikati , a conservative Sunni Muslim refused to sign the Darwish-Sukkarieh civil marriage contract.
The Darwish-Sukkarieh contract led to an internal confrontation which reached its peak on Jan. 28, 2013, when Sunni religious figures held a meeting at their official headquarters, Dar al-Ifta, headed by former Sunni Mufti Mohammed Qabbani. Following the meeting, they issued a fatwa saying: "Every Muslim official, whether a deputy or a minister, who supports the legalization of civil marriage, even if it is optional, is an apostate and outside the Islamic religion. [Such officials] would not be washed, would not be wrapped in a [burial] shroud, would not have prayers for their soul in line with Islamic rules, and would not be buried in a Muslim cemetery."
The fatwa's ruling that some Muslims are "apostates" has dangerous practical implications in some Islamic societies. For "spilling the blood of an apostate" — or a ruling to kill him — is permissible according to sharia or Islamic law, which punishes those who leave Islam with death. Nonetheless, Kholoud and Nidal, continued their struggle, accompanied by an active and persistent civil society.
Charbel eventually signed the contracts 3 months after Mikati resigned .
Lebanese authorities have all along recognized civil marriages registered abroad, and it has become common for mixed-faith couples to marry in nearby Cyprus.
Darwish and Sukkarieh had their sect, Shiite and Sunni Muslim, legally struck from their official family records to be wed as a secular couple under an article dating from the 1936 French mandate that makes reference to civil unions.
YL with agencies