Suleiman, Gemayel reject Baabda vacuum and any changes to cabinet mechanism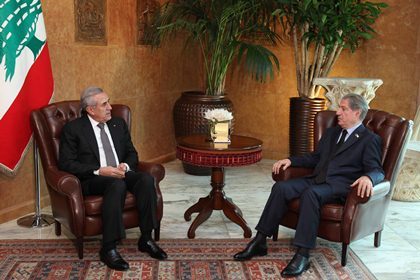 Former Lebanese Presidents Michel Suleiman and Amin Gemayel and  seven cabinet ministers met on Wednesday at Gemayel's residence in Sin el-Fil to discuss the controversial decision-making mechanism of the cabinet and rejected  the ongoing vacuum at the presidency.
Gemayel , who also heads up the Phalange party said after the talks: "The vacancy at the Baabda Palace would not have persisted had it not been for the coup against the constitution."
The gatherers voiced their support for Prime Minister Tammam Salam's efforts "that are aimed at creating a productive atmosphere at the cabinet."
"The election of a president will restore normal functioning to institutions as he is the guarantor of Lebanon's unity, entity, and institutions," added Gemayel.
"The current mechanism at the cabinet was approved by all and it has facilitated government. We are therefore now creating problems out of nothing," said the Phalange party  leader.
Prior to  the meeting, Suleiman met with Maronite Patriarch Beshara al-Rahi in Bkirki.
He stressed the need to continue with the current mechanism until the election of a president.
The grouping opposes the changes on the mechanism called for by Prime Minister Tammam Salam.
The current mechanism requires the unanimous support from all the ministers on the cabinet decisions and was adopted after the government assumed the authorities of the head of state in accordance with the constitution following the end of Suleiman's tenure in May last year.
In other words ,under the current mechanism, decisions must be approved by all 24 ministers.
But Salam wants to amend the mechanism after several cabinet members began exercising veto power, stalling several projects.
According to  Article 65 of the Constitution, which stipulates how Cabinet decisions must be made if a unanimous vote cannot be secured, then regular Cabinet decisions may pass by a simple majority, and major ones – as outlined in the article – by a two thirds majority.
The Lebanese parliament failed last week  and for the 18th time in a row to elect a president to replace l Suleiman whose term ended
on May 25.
As in the past sessions the parliament was unable to reach a quorum because the Iranian backed Hezbollah militant group and its ally MP Michel Aoun's Change and Reform bloc MPs boycotted the sessions.
Speaker Nabih Berri postponed to March 11 , 2015 Lebanon's presidential election.