Nigerian forces defeat Boko Haram, retake border town of Baga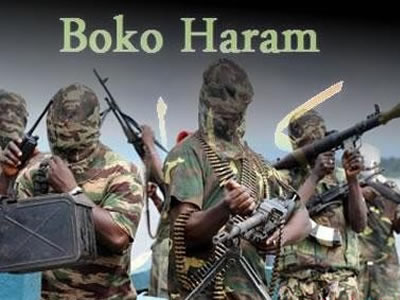 Nigerian forces backed by air strikes seized the northeastern border town of Baga from Islamist group Boko Haram on Saturday, the military said, a significant victory in an offensive against an insurgency affecting four African states.
"We have secured Baga. We are now in full control. There are only mopping up exercises left to do," Defense Spokesman Major-General Chris Olukolade said by telephone.
In a statement minutes earlier Olukolade said that "a large number of terrorists had drowned in Lake Chad" as troops advanced on Baga.
Baga is at Nigeria's border with Chad, Niger and Cameroon and it was the headquarters of a multinational force comprising troops from all four countries. Its recapture was an important victory, one of several in the past two weeks.
Boko Haram fighters in many parts of Nigeria and the region appear to be on the run, after being subjected to a major military offensive on all sides, although Boko Haram have seemed defeated in the past only to bounce back deadlier than ever.
"Not even the strategy of mining over 1,500 spots with land mines on the routes leading to the town could save the terrorists from the aggressive move of advancing troops," Olukolade had earlier said in a statement.
LAKE CHAD FIGHTING
Successes in pushing back Boko Haram would come at a welcome time for Nigeria's President Goodluck Jonathan, who faces an election on March 28 that was delayed by six weeks on the grounds that more time was needed to fight the insurgency.
The poll, however, also provides a strong motive for the government and military to talk up successes.
Boko Haram claimed a Jan. 3 attack on the town of Baga that killed scores, possibly hundreds, of civilians and left the jihadists in control of it.
The Sunni Islamist group, which has killed thousands of people and kidnapped hundreds in a six-year insurgency, had gained strength in the past year, carving a territory the size of Belgium and intensifying cross-border raids.
To counter that border threat, Nigeria's neighbors, where Boko Haram used to flee after carrying out hit and run attacks, are pursuing a strategy of pushing them back into Nigeria.
At least 23 people were killed in fighting between Boko Haram militants and the Niger army over the island of Karamga, on the Niger side of Lake Chad.
Retreating Boko Haram forces are often extremely dangerous to a defenseless civilian population. Boko Haram militants fleeing an offensive in the Sambisa forest killed 21 people on Friday in attacks near Chibok, close to where the rebels abducted more than 200 schoolgirls last year.
Military chiefs will meet in Chad's capital N'Djamena next week to finalize plans for an 8,700-strong task-force of troops from the four countries plus Benin.
A spokesman for Chad's army said his troops did not participate in the Baga offensive. Nigerian and Cameroonian militaries were not immediately available for comment.
Reuters