Hezbollah denies that Syria wants the party to liquidate Samaha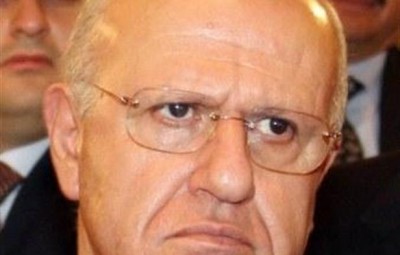 Hezbollah denied on Friday media reports which revealed that Syria was seeking to assassinate detained former minister Michel Samaha describing the reports as ' baseless accusations'.
Hezbollah said in a statement: "Such claims are baseless accusations that do not rely on facts."
It added that it reserves the right to take legal action in the matter.
This comes after Lebanon Justice Minister Ashraf Rifi confirmed on Tuesday that a plot to kill former pro-Syrian Information Minister Michel Samaha, who is on trial on terrorism charges, has been thwarted.
Rifi told al-Liwaa newspaper that he had received information from a highly credible security agency that Samaha would be killed during his transfer to hospital for having information about the Syrian regime.
The minister said he told Interior Minister Nouhad al-Mashnouq about the plot as soon as he was informed by the agency.
Rifi also called the general prosecutor and the military prosecutor to stop Samaha's transfer to hospital.
The minister claimed that his efforts contributed to lifting the decision for the suspect's transfer to avert his murder on his way to hospital or his possible kidnapping.
His remarks came a day after security sources told al-Joumhouria daily about the plot.
The former minister and two Syrian officials have been indicted for transporting explosives from Syria to Lebanon in an attempt to assassinate Lebanese political and religious leaders.
But his trial has been adjourned on several occasions over the failure to summon Syrian security chief General Ali Mamlouk.
Hezbollah's statement also comes after Saudi newspaper al Watan reported on Wednesday that Damascus had asked Hezbollah chief Hassan Nasrallah to get rid of Samaha.
Kuwaiti daily Al Rai reported also on Wednesday that what Rifi said about the thwarting of the plot about Samaha is only part of the information he has . According to the daily Damascus also wants Hezbollah to liquidate Rifi.
According to security sources Samaha has important documents that prove the involvement of Syrian officials inside Lebanon.
This is what Bashar wants
"This is what Bashar wants," Lebanese security sources quoted Samaha as saying in August 2012 of Syrian President Bashar Assad, in a video shot by a Lebanese undercover agent for the Internal Security Forces Information Branch.
He was referring to bombing plan that was meant to be carried out in north Lebanon.
The security sources also said that, in the video, Samaha can be seen and heard saying that ( Syrian Director of the National Security Bureau Maj. Gen. Ali ) Mamlouk, had handed him the bombs in addition to the $170,000 cash that was meant to be distributed to would-be executors of the attacks in Lebanon.
Hezbollah's rejection of the reports was expected according to analysts because Samaha is known for being a staunch ally of the Syrian regime and Hezbollah. He was among several pro-Syrian Lebanese officials who were sanctioned in 2007 by the United States for "contributing to political and economic instability in Lebanon."