Slain Lebanese professor asked for deputy escort to home he shared with his ex-wife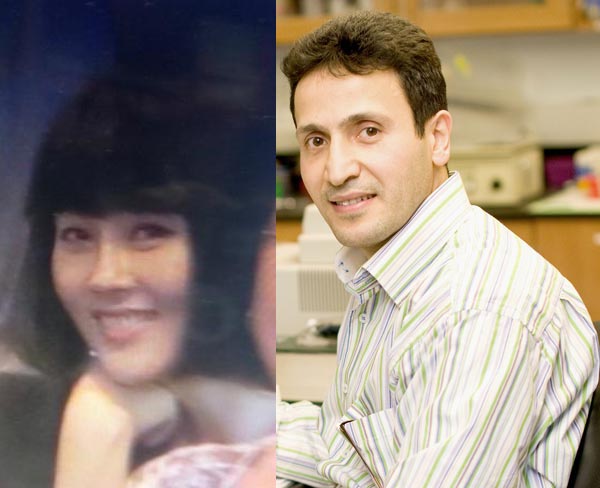 One day before a University of South Carolina professor called campus police to remove a woman from his lab, he also had contact with Lexington County sheriff's deputies concerning the same woman.
We received records from Lexington County Communications, after filing a Freedom of Information Act request, that show  Lebanese professor Dr. Raja Fayad called dispatch Jan. 11 shortly after 6 p.m. to ask that a deputy escort him to the home at 336 Brentland Court in Columbia. He wanted to give Sunghee Kwon her car key that he said he accidentally left in his jacket. Fayad said he didn't want to have any disputes with the woman he identified as his girlfriend and as his ex-girlfriend.
Fayad was killed by Kwon on Feb. 5 by multiple gunshots to his upper body in his office at USC's Arnold School of Public Health. Kwon then turned the gun on herself.
Dispatch: Lexington County Communications
Raja Fayad: Hi, this is Raja Fayad. I have a question. An issue I'd like help with.
Dispatch: OK.
Fayad: I left the house. My girlfriend's house. By accident I left her car key in my pocket. So I need some help – if you guys can help me to give her the key in your presence. Would you mind helping me in that?
Dispatch: You need us to give her the key, sir?
Fayad: Yes, I don't want to have any issue with her. I don't want to have any disputes. I'd like to have your presence.
Dispatch: What we can do is, sir, we can meet you somewhere and escort you to give her the key back.
Fayad: Uh-huh.
Dispatch: All right.
Fayad: This would be perfect.
Fayad: And also I have another issue. She is taking my passports and I'd like to ask her, by you, to give me my passports back.
Dispatch: You want your passports back, you say?
Fayad: Yes, she is holding them and doesn't want to give them to me. So if you don't mind, one with the other request, I need my passports back by her.
Dispatch: OK. Where are you at sir? Where do you want to meet the officer at?
Fayad: I can meet them at her place. 336 Brentland Court. (Fayad spells out the street name.)
Dispatch: How far are you from there, sir?
Fayad: About 10 minutes driving.
Dispatch: OK. When you get a little closer, give us a call, and we'll have an officer meet you out there. (Dispatch gives him the number to call back.)
Second call:
Dispatch: Lexington County Communications
Fayad: Hi, sir. This is Raja Fayad. I called about 10 to 15 minutes ago. If one of the deputies can escort me to the house to give my ex-girlfriend the car key.
Dispatch: What's the address you are at?
Fayad: It's 336 Brentland Court
Dispatch: OK. Did someone say for you to call back when you got closer?
Fayad: Yes, I'm next to the house.
Dispatch: OK. And what was that address? 336, what road?
Fayad: (spells out street name)
Dispatch: What's your relationship with the person who lives there?
Fayad: My girlfriend. I need to give her her car key. I left it in my jacket, and I need my passports. She is holding them in the house.
Dispatch: And you are at 336 Brentland Court?
Fayad: Correct.
Dispatch: What kind of vehicle are you in?
Fayad: I'm in a black Honda Civic, four-door sedan.
Dispatch: OK. What is your name?
Fayad: Actually, I'm not exactly at 336, but in the cul-de-sac about two or three houses away. My name is Raja (spells name).
Dispatch: What is your phone number?
Fayad: (gives number) Actually, I got this phone number recently. I am not exactly sure this is the phone number, but this is what I'm calling from.
Dispatch: All right. We'll get the deputies out there for you. OK?
Fayad: OK. How long will it take?
Dispatch: I'm not sure, sir. It depends on how quickly they clear from the scene they are on.
Fayad: Ok. Thank you very much.
Dispatch: You're welcome.
Fayad: OK. Bye.
At about 10:30 a.m. the next day, Jan. 12, Fayad called USC dispatch concerning an unwanted woman in his lab that was later identified as Kwon. At first, Fayad told police she was a student trying to enter the doctorate program at the Arnold School of Public Health. Kwon told USC police that she was contacting Fayad to get a status update on her application for the program, according to a USC Police report.
Police said Kwon left the building without an issue, and Fayad said he did not feel threatened by her. It was after the USC Police officer ran Fayad and Kwon's driving records that it was discovered they had the same home address.
Fayad later told police that he and Kwon broke up about two weeks prior to the incident in his lab. After leaving the Brentland Court home, Fayad changed his cell phone number and was living at an extended stay on Augusta Road. However, he told USC Police that Kwon was contacting him via email.
We discovered that the couple was married Feb. 21, 2009, and Illinois court records show they divorced Oct. 29, 2013. Deed records show Fayad and Kwon bought the Brentland Court house in August 2009. However, even after their divorce, the couple appeared to continue living together at times. Investigators said Kwon was living at the Columbia home alone since Fayad moved out.
Other calling records from Lexington County Communications were from Kwon claiming an issue with a neighbor harassing her on Jan. 1, and suspicions that this same neighbor was stealing water from her home in August. Both times, Kwon did not want to press charges, but to only make a record of her complaint against the neighbor.
WIS TV
Update:
Memorial fund / Lebanese Cedar tree 
The University of South Carolina has established a memorial fund in honor of slain professor Raja Fayad.
The fund will be used to "continue his positive influence on students and faculty, enhancing his life's work of teaching and cancer research," the Arnold School of Public Health website says.
Fayad was shot and killed Feb. 5 by his ex-wife, Sunghee Kwon, in USC's public health building on Assembly Street. Kwon then killed herself.
A memorial service for Fayad will be held later this year with relatives from his native Lebanon, USC spokesman Wes Hickman said. The university will plant a Lebanese cedar tree at the Arnold School of Public Health during the service.
Fayad had a fiancée in Lebanon, Tom Chandler, dean of USC's School of public health, wrote on the school's website.
"He was so much fun," Chandler wrote. "But most important for us, he walked the walk as a living example of the complete quality faculty member: outstanding in unselfish service to his community and students, exemplary to all of us with his many gifts for teaching and mentoring.
"He had strong faith in God and in his fellow man's ability to do good in the world," Chandler wrote. "He also remained attentive and actively concerned for his ex-wife's welfare and mental health to the end."
To contribute to the memorial fund, go to http://www.sph.sc.edu/raja-fayad-donations.html.