Bruised Australian PM Tony Abbott survives leadership challenge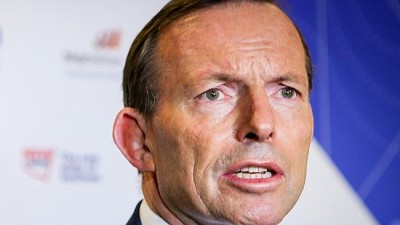 Australia's beleaguered Prime Minister Tony Abbott survived an internal government challenge to his leadership on Monday, despite a revolt by dozens of colleagues that leaves him politically damaged.
A meeting of lawmakers in the ruling conservative Liberal Party voted 61 to 39 to reject a motion that called for a ballot for party leader and deputy, party whip Philip Ruddock reported after the brief meeting.
Abbott needed a stronger show of support from his colleagues to ward off potential future challenges if the government continues to endure sagging approval ratings in opinion polls.
But he said later that he should stay in charge of the government until voters decide his fate in elections next year.
"We want to end the disunity and the uncertainty which destroyed two Labor governments and give you the good government that you deserve," Abbott said in a video statement, referring to the center-left Labor Party that dumped prime ministers in similar internal struggles in 2010 and 2013.
"We think that when you elect a government, when you elect a prime minister, you deserve to keep that government and that prime minister until you have a chance to change your mind," he added.
The challenge showed that 39 of 102 Liberal lawmakers wanted a change at the helm, even though no one had officially announced he or she was willing to stand against Abbott.
It came halfway through Abbott's first 3-year term as prime minister. His party has never dumped a first-term prime minister.
The challenge to Abbott's leadership — a "spill motion" that declares the party leadership open to any candidates in a ballot — was triggered by disgruntled government lawmakers last week and was to be discussed Tuesday at the year's first scheduled Liberal Party meeting.
But Abbott on Sunday arranged a special meeting for Monday morning, leaving some lawmakers scrambling to book earlier flights to Canberra, and giving his opponents less time to garner support to topple him.
The internal tussle came as an opinion poll published in The Australian newspaper on Monday showed that Abbott's popularity had reached its lowest point in his five years as party leader.
The poll found that only 24 percent of respondents were satisfied with the prime minister's performance while 68 percent were dissatisfied.
His conservative coalition government lagged behind the Labor opposition with 43 percent of respondents favoring the government and 57 percent supporting Labor.
The poll was based on a nationwide, random telephone survey over the weekend of 1,178 voters. It has a margin of error of 3 percentage points.
If the motion had passed Monday, the positions of prime minister and his deputy, Foreign Minister Julie Bishop, would have been declared open. There would then have been secret ballots of Liberal Party lawmakers later Monday to either return Abbott and Bishop or replace them.
Communications Minister Malcolm Turnbull, who led the party in opposition until he lost by a single vote to the more conservative Abbott in a 2009 leadership ballot, is touted as the favorite to replace the prime minister if there is another challenge.
Abbott has come under increasing criticism from some members of his own party — which is conservative despite its name — over the government's sagging approval ratings. Polls have slumped since May, when the government's first annual budget was widely criticized as being toughest on the poor and most vulnerable.
Recently, he drew widespread criticism by making Queen Elizabeth II's 93-year-old husband, Prince Philip, an Australian knight on Australia's national day. Many saw it as an insult to worthy Australians.
Public dislike of Abbott has been blamed in part for big election losses for conservative governments in Victoria state in November and Queensland state last month.
Associated Press