Under fire, NBC's Brian Williams steps down" temporarily"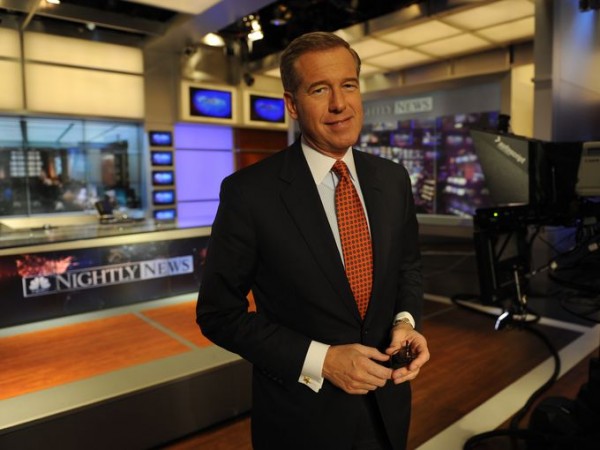 Brian Williams said Saturday that he will step aside as anchor of his nightly NBC News broadcast for "several days" as a result of the controversy generated by his comments about his reporting during the Iraq war and Hurricane Katrina.
With his troubles mounting by the day, Williams said he had decided to take himself off his signature newscast, "Nightly News with Brian Williams," while NBC looks into statements he has made about his work in interviews stretching back more than a decade.
"As managing editor of NBC Nightly News, I have decided to take myself off of my daily broadcast for the next several days, and Lester Holt has kindly agreed to sit in for me to allow us to adequately deal with this issue," Williams wrote in a memo to the NBC News staff that was made public by the network. "Upon my return, I will continue my career-long effort to be worthy of the trust of those who place their trust in us."
Williams, 55, has been under fire since Wednesday after he apologized to a group of Iraq war veterans for apparently exaggerating the danger he and an NBC News crew faced while covering the start of the war in 2003. Williams had described coming under rocket and gunfire while traveling with U.S. soldiers in a military helicopter that was damaged and forced to land. The soldiers disputed Williams's account, saying his aircraft had not been fired upon, prompting Williams to recant the story.
On Saturday, a 2007 video surfaced of him characterizing the Iraq episode in a somewhat different, but no less dramatic fashion than he had before or since. He also added another claim of wartime drama from his coverage of the Israel-Hezbollah conflict in 2006.
In an interview with a campus television station before a speaking engagement at Fairfield University in Connecticut, Williams said he "looked down the tube" of a rocket launcher after the weapon had been fired at another helicopter during his 2003 trip to Iraq.
"I've been very lucky to have survived a few things that I've been involved in," he said in the video, posted on the Web site Ace of Spades HQ. In the same interview, he said that in the war between Israel and Lebanon-based Hezbollah, "there were Katuyshka rockets passing just beneath the helicopter I was riding in."
He added, "A few years before that, you go back to Iraq, and I looked down the tube of an RPG that had been fired at us, and it hit the chopper in front of us."
The soldiers who piloted Williams's helicopter in Iraq said no rocket-propelled grenades had been fired at the aircraft, a fact that Williams did not dispute and apologized for on Wednesday. A military helicopter that preceded Williams's helicopter to a landing spot in the Iraqi desert did sustain damage from an RPG, but it was at least a half-hour ahead of Williams's flight, making it unlikely that he could have "looked down the tube" of the weapon.
NBC declined on Saturday to comment on the Fairfield video.
On Friday, network officials said an internal review had been launched to vet Williams's statements.
His comments about his work covering Hurricane Katrina in 2005 are also part of the review. He has made several statements about what he saw and experienced during the storm in New Orleans that have not been corroborated.
Williams began his two-paragraph memo to NBC's staff on Saturday this way: "In the midst of a career spent covering and consuming news, it has become painfully apparent to me that I am presently too much a part of the news, due to my actions."
Williams is the most-watched anchorman in the nation and is thus among NBC's most valuable assets. "Nightly News with Brian Williams" attracts more than 9 million viewers daily.
Holt anchors the weekend edition of the program and has been a frequent substitute for Williams.
Network sources described Williams's decision as entirely his own and said it was made without prompting from his boss, news division chief Deborah Turness, or by executives at Comcast, which owns NBC. One executive, who was not authorized to speak for the record, said the network is "standing behind him. . . . He knows this is a difficult time. He feels he has become a distraction and wants [the staff] to focus on what they're doing."
Turness has made no public statements. Her only comments were in a staff memo Friday that was released by NBC News. "We're working on what the best next steps are," she said in that memo.
NBC has not said when it expects to complete its review of Williams's comments or what disciplinary actions he might face if he is found to have exaggerated or made up events. Removing him permanently would be very costly, both in terms of settling his contract — a five-year deal signed in December that reportedly pays him more than $10 million annually — and, more important, in its effect on NBC's news ratings.
"Nightly News," which Williams has anchored since 2004, is the strongest franchise among NBC's news programs. The morning ­"Today" show has lost its long-held lead to ABC's "Good Morning America," and the Sunday morning "Meet the Press" is struggling to remain competitive with CBS's "Face the Nation" and ABC's "This Week."
The mounting number of Williams's questionable statements and NBC's evident concern over them have many people talking about something unthinkable a few days ago: Williams's demise as the face of NBC News.
"No one is irreplaceable, least of all a TV anchorman who is more of a figure­head than a vital journalistic component of NBC News," said Mark Feldstein, a professor of broadcast journalism at the University of Maryland and a former network and local news correspondent. "Yes, the network has invested millions building up the Williams image, and NBC's ratings would hurt for a while during the jockeying to find a permanent replacement. But they'd recover soon enough, and life would go on as before for the rest of the news division."
But Deborah Potter , also a former network reporter who now runs NewsLab, a Washington-based journalism training organization, said losing Williams would be "a serious blow" to NBC. Given NBC News's current ratings troubles and that it has "no obvious successor" to Williams, "you're looking at a news divisio n that can ill-afford another loss."
Washington Post