Venezuelan government takes over a supermarket chain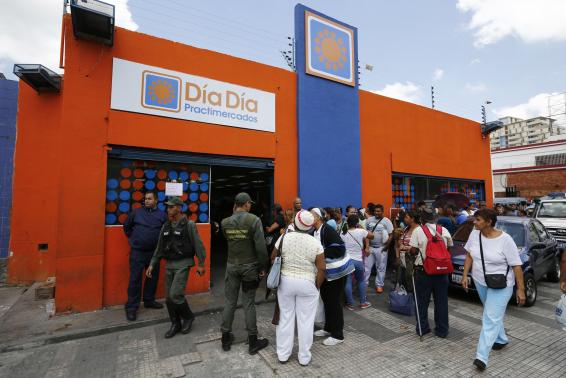 Venezuela said on Tuesday it has temporarily taken over 35 stores belonging to the "Dia a Dia" supermarket chain on charges it squirreled away food to stoke public exasperation over widespread shortages.
President Nicolas Maduro has alleged that a greedy business elite is hoarding goods and engineering long queues by closing check-out counters in a bid to sabotage his socialist rule.
Opponents scoff at this as a ludicrous smokescreen, while economists have long recommended the government ease strict currency controls to increase imports and shore up flailing domestic production.
But Maduro has appeared to double down on the "economic war" theory on the back of deepening shortages of basic goods this year, and on Sunday said an unnamed supermarket chain would be taken over.
Venezuela's head of the National Assembly, Diosdado Cabello, confirmed on Tuesday that the chain was Dia a Dia, which chiefly caters to the government's traditional base of support in poor neighborhoods and whose name means "Day to Day" in Spanish.
"The temporary occupation of all the Dia a Dia supermarket chain has been ordered to protect Venezuelans," said a red-shirted Cabello, speaking from a storage facility in the company of soldiers and socialist party officials.
A handful of armed National Guards were posted in front of at least two Dia a Dia supermarkets in capital Caracas on Tuesday morning. Some shelves inside were barren.
"Have they taken it over or not, are its bosses with the government or the opposition?" asked Gladys Mora, 53, a homemaker.
"We're not interested. What we're worried about is that there's nothing to buy," she added as she waited in a long line in hopes of buying flour or sugar in a lower-income area of central Caracas.
Calls to Dia a Dia's hotline were not answered.
Authorities are also pressing charges against Venezuelan pharmacy chain Farmatodo for not opening enough check-out counters. Its executives were summoned for questioning over the weekend.
Outraged government opponents warn the crackdown will merely exacerbate shortages of everything from diapers to chicken and medicines in the recession-hit OPEC country.
Reuters