Iran vows to 'settle score' with Israel over General killed in IDF strike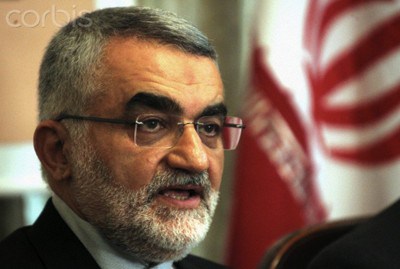 Iran "still has a score to settle with Israel," Alaeddin Boroujerdi, Chairman for the Committee for Foreign Policy and National Security of the Islamic Consultative Assembly of Iran told Hezbollah mouthpiece, Al-Manar television on Monday, Israeli media reported.
Boroujerdi asserted that his country retained the right to respond to an airstrike two weeks ago, which killed an Iranian Revolutionary Guard (IRGC) general, along with some several other officers and Hezbollah operatives.
Boroujerdi, however, also acknowledged in another interview that Iranian officials had received messages from Israel via third-parties that Jerusalem was not interested in an escalation between the two states.
In the wake of the strike – which Israel has not officially taken responsibility for – an IRGC commander said that Israel should expect "ruinous thunderbolts" in response to the attack, which killedBrigadier General Mohammad Ali Allahdadi , along with noted Hezbollah operative, Jihad Mughniyeh.
"The Revolutionary Guards will fight to the end of the Zionist regime," IRGC head Gen. Mohammad Ali Jafari told the Iranian Fars News Agency last Tuesday.
"We will not rest easy until this epitome of vice is totally deleted from the region's geopolitics," Jafari vowed.
It is suspected that Mughniyeh, who was believed planning major attacks against Israel, including rocket strikes and terror cell infiltrations, using explosives and anti-tank missiles, "put together a serious terrorist organization, with many capabilities and was busy preparing major attacks," an Israeli defense source said.
"We would rather die in the war against the Israeli enemy than to die in the war raging in Syria," one Hezbollah member told Lebanese news media, according to Israel's NRG News.
A senior IRGC official on Monday called for establishing a greater foothold in the West Bank and Gaza Strip.
"We must contain Israel… so that it never dares to speak about a missile attack on Iran, we must reinforce our power in the West Bank and Gaza," said Brig.-Gen. Iraj Masjedi, who serves as the top adviser to the commander of the Revolutionary Guards' al-Quds Force, Iran's state-run Press TV reported.
Some Israeli officials believe a deadly anti-tank rocket attack on IDF forces last Wednesday on the Lebanon border by Hezbollah was originally intended to be the opening salvo of a far-larger Iranian-backed operation against Israel in February and March, and was not "merely" a revenge attack for the Israeli air strike.
An IDF soldier and an officer were killed, and seven others were wounded, in the Kornet rocket attack on their patrol.
Algemeiner