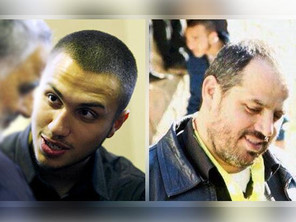 The Iranian backed Hezbollah militant group officially announced about 11:30 PM Beirut time the following names of its 6 fighters and commanders that were killed on Sunday in the Israeli airstrike, Lebanon Files reported.
Mohammad Ahmad Issa, From Arab Salim . Born 1972 , married , 4 children
Jihad Imad Moughniyah, from Tair Dibba, born 1989, bachelor
Abbas Ibrahim Hijazi, from Kfarfila, born 1979, married , 4 children
Mohammad Ali Hassan Abu Al Hassan, from Ain Qana , born 1985, bachelor
Ghazi Ali al Thawi from al Khiam, born 1988, married , 1 child
Ali Hassan Ibrahim from Yahmar al Shakeef , born 1993, bachelor
Contrary to a previous report neither Hazem Raad from Beqaa nor Samir Kuntar from Abey Mount Lebanon, were among those killed according to the official announcement.
The Hezbollah announcement did not alos name the 6 Iranian Revolutionary Guard members that were also reportedly killed on Sunday.
A Hezbollah statement said earlier hat an Israeli helicopter fired missiles on Sunday at Jihad Mughniyeh's car in Quneitra, near the Israeli-occupied Golan Heights.

Mughniyeh, 25, was the son of Imad Mughniyeh, who was killed in the Syrian capital Damascus in 2008, also in a suspected Israeli attack. Hezbollah officials said Mughniyeh was one of the Hezbollah fighters tasked with overseeing operations in the Golan Heights. He was a Hezbollah student activist at the Lebanese American University, and took on a more prominent role after the death of his father.
Imad Mughniyeh was on the most wanted list of the US for attacks on Israeli and Western targets until his killing.
Mohamad Issa, the chief of Hezbollah operations in Syria, is also a big name, making this a major blow for Hezbollah,"according to reports coming from Beirut media .
Lebanese media quoted Hezbollah sources as saying " there will be retaliation for the attack."
Israeli Channel 10 TV quoted an official Israeli source as confirming the country's role in the attack.
Israel's Ynet news website also quoted a military source as saying that the operation targeted "terrorists who intended to attack Israel".
A statement by Hezbollah's Al Manar television said the fighters were killed during a field reconnaissance mission in Mazraat Amal, a village in Quneitra.
This incident comes three days after Hassan Nasrallah, the Hezbollah leader, said he considered frequent Israeli attacks in Syria as a major aggression, and that Syria and its allies had the right to respond.
MTV reported  around 8  PM Beirut time that  Nasrallah will  deliver  this evening a speech in which he will announce that Hezbollah will retaliate against Israel with a painful strike.
But Voice of Lebanon reported around 10: 30 PM Beirut time   that Nasrallah will not deliver a speech this evening , contrary to what some media outlets have reported.