David Cameron and Barack Obama in anti-terrorism vow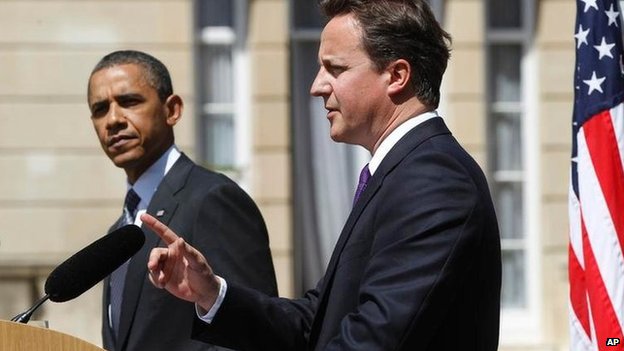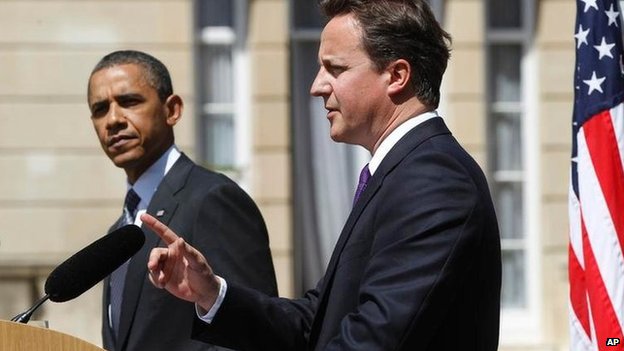 David Cameron and Barack Obama have vowed to defeat the "distorted ideology" of terrorism, ahead of talks in Washington.
The UK and US leaders said they would not allow anyone to "muzzle free speech" after Islamist gunmen killed 17 people in terror attacks in Paris.
They are expected to discuss cyber crime and the economy during the prime minister's two-day visit.
It is likely to be his final Washington visit before May's general election.
Mr Cameron is also expected to raise the case of Shaker Aamer, the final British resident in Guantanamo Bay.
The UK is seeking the return of Mr Aamer, who has been held for 13 years without trial, to his family in Britain.
Trade controversy
The two leaders will have a working dinner at the White House on Thursday and meet in the Oval Office on Friday.
Thursday's talks are expected to focus on the economy, amid uncertainty in the eurozone and controversy over a planned EU-US trade deal.
Campaigners say the Transatlantic Trade and Investment Partnership poses a threat to democracy and the rule of law.
But in a joint article in Thursday's Times newspaper, Mr Cameron and Mr Obama said it would "support new opportunities for millions of workers".
After the economy talks, the emphasis will shift to national security, including the threat from cyber attacks.
In their article, the leaders said the world had responded "with one voice" to the Paris attacks on Charlie Hebdo magazine, police officers and a kosher supermarket.
'Barbaric killers'
"Along with our French allies, we've made clear to those who think they can muzzle freedom of speech and expression with violence that our voices will only grow louder," they said.
Vowing not to be "cowed by extremists" the leaders said they would "defeat these barbaric killers and their distorted ideology".
They are also expected to discuss the fight against Ebola, the threat from Islamic State extremists, and Russia's actions in Ukraine.
Accusing Russia of "trying to destabilise" Ukraine, they added: "If we allow such fundamental breaches of international law to go unchecked, we will all suffer from the instability that would follow."
BBC