Israel pushing for French Jews' immigration
The four Jews killed in the Paris kosher supermarket siege are being buried in Jerusalem today as Israeli leaders step up calls for French Jews to immigrate to Israel.
Israel agreed to the request of the victims' families to bury the four men together in Jerusalem.
The bodies were flown to Israel last night and today's funeral will be attended by president Reuven Rivlin, prime minister Binyamin Netanyahu and other officials.
In response to the Paris attacks, Israeli officials have controversially urged the French Jewish community of about 500,000 –the largest in Europe- to pack their bags and move to Israel.
Mr Netanyahu, speaking at the Paris grand synagogue following Sunday's unity march, promised that "every Jew who wants to move to Israel will be received with open arms and warm hearts," receiving loud applause.
"They won't be arriving in a foreign land, they'll be arriving in the land beloved by our forefathers," he said. "God willing, they will come and many of you will come home."
Aliyah, Hebrew for "going up", or emigrating from the diaspora to Israel, has always been a central tenet of Zionism and any Jew has an automatic right to immigrate to Israel.
Last year aliyah from France increased sharply with almost 7,000 French Jews making their homes in Israel, the highest figure of any diaspora community. This year's numbers are expected to be significantly higher.
Even before the latest attacks, French Jews were feeling increasingly insecure in light of the growth of the Muslim minority and the rise of the far-right National Front. The attack by a jihadist gunman at a Toulouse Jewish school in 2012 and last year's shooting at the Jewish museum in neighbouring Belgium both led to a surge in enquiries from French Jews considering moving to Israel.
Foreign minister Avigdor Lieberman told Paris Jews at an immigration fair on Sunday that aliyah was the only solution.
"If you are looking for security and a safer future for your children there is no other alternative."
However, president Rivlin cautioned that aliyah must come from choice, not from fear.
"Aliyah must come out of one's positive Jewish identity, Zionism, and not due to anti-Semitism," he said.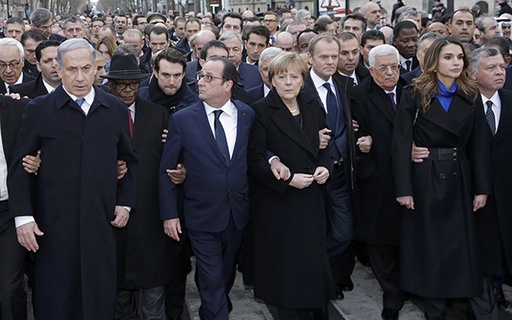 Israeli media reported that the Elysee palace had conveyed an explicit message to Jerusalem that they did not want Mr Netanyahu or Palestinian president Mahmoud Abbas to attend Sunday's rally because they wanted the focus to be on French unity.
Mr Netanyahu, in the middle of an election campaign, originally agreed but then changed his mind when he realised that Mr Lieberman and economy minister Naftali Bennet, both leaders of rival right-wing parties, were travelling to Paris.
Once at the rally, Mr Netanyahu, allocated a place in the second row of world leaders, allegedly forced himself to the front of the march.
Yair Lapid, leader of the Yesh Atid party, said Mr Netanyahu's behaviour showed the world "the impolite Israeli, the pushy Israeli, and that is unfortunate."
Irish Times