'Je suis Charlie': Amal Clooney makes political statement on her first Golden Globes red carpet
Amal Clooney used her first Golden Globes red carpet to make a political statement – pinning a 'je suis Charlie' button on her Dior handbag in support of France following a series of terrorist attacks last week.
Mrs Clooney was joined by her husband George and several other stars who flashed the viral phrase for cameras.
'I am Charlie' is a statement of solidarity with Charlie Hebdo, the satirical magazine where eight journalists were murdered – along with two policemen and two bystanders – by Islamist fanatics last weekend.
Dame Helen Mirren, Kathy Bates and Diane Kruger also voiced their support.
Film producer Harvey Weinstein wrote in a Variety column that he hopes stars use the Golden Globes as a chance to pledge solidarity with French journalists who were killed last week.
'There's always champagne on the table. I hope we can all raise glasses and that someone like Tina, Amy or George Clooney will urge us to toast with 300 million viewers around the world: 'Je suis Charlie, je suis juif, je suis Ahmed,' he wrote.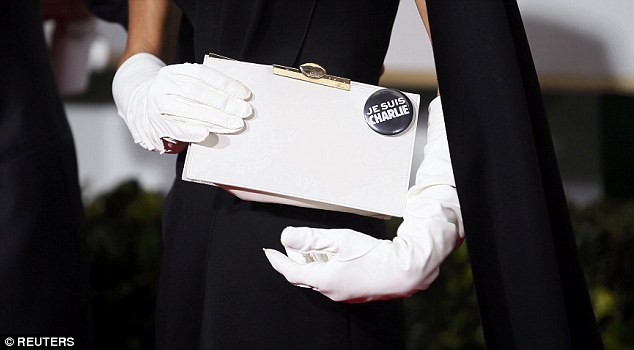 Mrs Clooney, a Lebanese-British human rights lawyer, told Elle that she was wearing a Dior gown and carrying a handbag that was 'customized in solidarity with the French people who've gone through a terrible week.'
Dame Helen Mirren also used the Golden Globes as a golden opportunity to give her verdict on the Paris terrorist attacks.
The dazzling 69-year-old also noticeably had a pen pinned to her stunning red dress.
Daily Mail