Hezbollah chief: Takfiris distort Islam more than cartoonists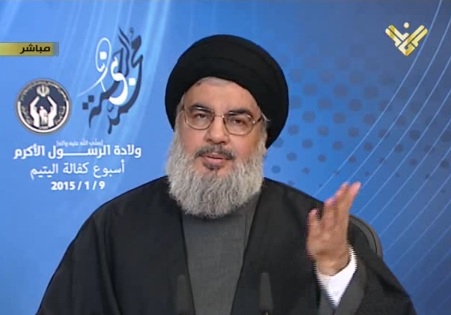 "Some terrorist groups are linking themselves to the banner of Islam and the prophet of Islam through their obscene, appalling and inhumane practices. They have insulted the Prophet of God and the Islamic nation more than the enemies of the Prophet", said Hezbollah chief hassan Nasrallah in a televised speech during the celebration on the occasion of Prophet Mohammed's birthday at the al-Mahdi school in Hadath, east of the Capital Beirut.
"The behavior of the takfiri groups that claim to follow Islam have distorted Islam, the Quran and the Muslim nation more than Islam's enemies … who insulted the prophet in films… or drew cartoons of the prophet," – He added in reference to the deadly terrorist attack on the Paris offices of satirical magazine Charlie Hebdo.
"Takfiris are the biggest threat to Islam, as a religion, [and] as a message," Nasrallah said.
Dialogue
Commenting on the domestic situation Nasrallah said that Hezbollah's dialogue with the Future Movement launched last month is serious from both sides and serves the interests of the entire country.
He acknowledged that there has been much skepticism surrounding the effectiveness of the talks, but insisted that tangible results were being made.
"I assure you, according to the two sessions so far…, I can speak of the possibility of reaching results."
"Our interest as Lebanese as well as the interest of every people here in the region is to sit down for dialogue as a way of reaching solutions," he added.
"No one said that the dialogue will resolve the matters of a defense strategy, the weapons of resistance, or its role in Syria."
But the talks were not an alternative to national dialogue, he added, urging all parties in conflict with another to pursue reconciliation.
Intra-Christian dialogue is key to paving the way to electing a president, he added, offering his backing to the anticipated talks between the Free Patriotic Movement and the Lebanese Forces.
He also rejected the notion that Lebanon needed a regional or international agreement to elect a president, insisting the country could solve the issue by itself.
War
Commenting on the war effort on the border with neighboring Syria , the Hezbollah chief saluted the Lebanese Army and security forces for containing the militancy on its eastern and northeastern border with Syria.
He cautioned citizens not to be victims of "psychological warfare" being used by jihadi fighters on the border, including Islamic State and Nusra Front militants holding 25 Lebanese servicemen hostage.
The Army, police and resistance fighters have the border situation under control, he added, calling on Lebanese to have peace of mind, and accusing media of stirring rumors.
"The militants on the borders have failed to achieve any significant victories on the borders," he said.
"As we have defeated the Israelis, we will defeat the takfiris, the terrorists, and anyone who attacks Lebanon."
Nasrallah said