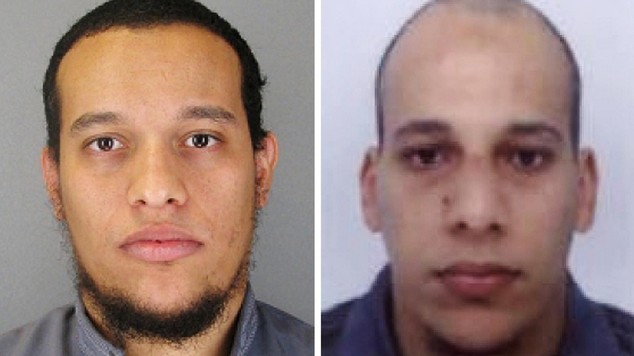 Paris – Shots were fired during a car chase and at least one hostage was taken to the north-east of Paris today, in the same area police were hunting for two brothers accused of slaughtering 12 people in an Islamist assault.
The hostage drama was underway at a business in Dammartin-en-Goele, to the north-east of Paris, and came 48 hours into a massive manhunt for the Islamist gunmen who attacked the Charlie Hebdo offices on Wednesday.
It was not immediately clear how many people were being held hostage, according to a police source close to the investigation.
The frantic search for the pair suspected of committing the worst atrocity on French soil in more than half a century came as it emerged they had been on a US terror watch list "for years".
And as fears spread in the wake of the attack, the head of Britain's domestic spy agency MI5 warned that Islamist militants were planning other "mass casualty attacks against the West" and that intelligence services may be powerless to stop them.
Wednesday's bloodbath at the satirical magazine Charlie Hebdo in Paris has sparked a global chorus of outrage, with impromptu and poignant rallies around the world in support of press freedom under the banner "jesuischarlie" (I am Charlie).
US President Barack Obama was the latest to sign a book of condolence in Washington with the message "Vive la France!" as thousands gathered in Paris on a day of national mourning Thursday, and the Eiffel Tower dimmed its lights to honour the dead.
And as a politically divided and crisis-hit France sought to pull together in the wake of the tragedy, the head of the country's Muslim community — the largest in Europe — urged imams to condemn terrorism at Friday prayers.
In a highly unusual step, President Francois Hollande was due to meet far-right leader Marine Le Pen at the Elysee Palace later Friday, as France geared up for a "Republican march" on Sunday expected to draw hundreds of thousands.
French authorities raised the security alert to the highest possible level in the region of Picardy, to the northeast of Paris, as forces tightened their noose on the brothers, Cherif Kouachi, 32 and Said, 34.
Around 24 hours into the manhunt, the brothers were identified after holding up a petrol station 80 kilometres (50 miles) from Paris.
Helicopters buzzed overhead during the night and paramilitary forces were preparing to step up their house-to-house searches.
As heavily armed crack units swarmed through the normally tranquil countryside villages, residents voiced their nervousness.
"I don't understand: the police are dressed like Robocops in the streets, but they let us move about freely. What if we came face-to-face with them, what do we do?" asked one woman, who gave her name as Carole.
French Interior Minister Bernard Cazeneuve announced that a total of 88,000 security forces were mobilised across the country and that an international meeting on terrorism would take place in Paris on Sunday.
Nine people had already been detained as part of the operation, Cazeneuve said.
And in an uneasy French capital, isolated incidents on Thursday ratcheted the tension higher, and the shooter of a policewoman, apparently unrelated to the Charlie Hebdo attacks, was still on the run.
Hollande convened key ministers for a third emergency meeting at the Elysee Palace.
Meanwhile, questions mounted as to how a pair well-known for jihadist views could have slipped through the net and attack Charlie Hebdo, apparently in revenge for the weekly's repeated publication of cartoons mocking the Prophet Mohammed.
Cherif Kouachi was a known jihadist convicted in 2008 for involvement in a network sending fighters to Iraq.
Said, his brother, has been "formally identified" as the main attacker in Wednesday's bloodbath. Both brothers were born in Paris to Algerian parents.
A senior US administration official told AFP that one of the two brothers was believed to have trained with Al-Qaeda in Yemen, while another source said that the pair had been on a US terror watch list "for years".
The brothers were both flagged in a US database as terror suspects, and also on the no-fly list, meaning they were barred from flying into the United States, the officials said.
The Islamic State group's radio praised them as "heroes" and Somalia's Shebab militants, Al-Qaeda's main affiliate in Africa, praised the massacre as a "heroic" act.
In chilling testimony, one witness said a masked gunman burst into the Charlie Hebdo editorial meeting screaming "Allahu akbar" ("God is greatest"), called out "Charb!", the name of famous cartoonist Stephane Charbonnier, and fired off a hail of bullets at random.
"By chance I threw myself behind the table and he didn't see me … a few seconds, and everyone was on the ground," said journalist Laurent Leger.
Refusing to be cowed, the controversial magazine plans a print run of one million copies instead of its usual 60,000, as journalists from all over the French media landscape piled in to help out the decimated staff.
"It's very hard. We are all suffering, with grief, with fear, but we will do it anyway because stupidity will not win," said columnist Patrick Pelloux.
Nation.com
CNN special report :
Who are the suspects
One spent time in jail for ties to terrorism. The other went to Yemen for training, officials say.
The Kouachi brothers are the main suspects in the deadly terrorist attack on the Paris offices of satirical magazine Charlie Hebdo.
Cherif Kouachi, 32, and Said Kouachi, 34, are both French citizens who were known to the country's security services, according to officials.
A source close to the French security services told CNN that investigators have evidence to suggest one of the brothers — it is unclear which — traveled to Syria sometime in the past year. USA Today reported that they both returned from Syria in the summer.
One of the brothers went to Yemen in 2005, French Justice Minister Christiane Taubira told CNN's Christiane Amanpour on Thursday, without saying which.
Both brothers were in the U.S. database of known or suspected international terrorists, known as TIDE, and also had been on the no-fly list for years, a U.S. law enforcement official said.
Here's what we know about the Kouachi brothers, who are the subject of an intense manhunt in France:
CHERIF KOUACHI
The younger of the two brothers has spent time in jail for links to terrorism. He was sentenced to three years in prison for being part of a jihadist recruitment ring in Paris that sent fighters to join the conflict in Iraq.
He was arrested in January 2005, at age 22, when he and another man were about to set off for Syria en route to Iraq, where war was raging.
Kouachi's lawyer Vincent Ollivier said at the time that his client's profile was more "pot-smoker from the projects than an Islamist."
"He smokes, drinks, doesn't sport a beard and has a girlfriend before marriage," Ollivier told the French newspaper Liberation the month after his client's arrest.
A report from the TV network France 3, which apparently first aired in 2005, described Kouachi as a young fan of rap more interested in chasing girls than going to the mosque. But he changed when he became a student of Farid Benyettou, according to the report.
At trial in 2008, Kouachi was described as coming under the influence of Benyettou, a radical Muslim preacher, at the Addawa mosque in Paris' 19th arrondissement.
Kouachi's cursory training for his planned mission in Iraq involved jogging in Paris' hilly Buttes-Chaumont park and being shown the basics of operating a Kalashnikov by a man he met at the mosque, French newspaper Le Monde reported at the time.
Kouachi told the court that he was motivated by U.S. troops' abuse of detainees at Abu Ghraib prison in Iraq. But he said he was relieved when he was arrested.
"The closer the departure got, the more I wanted to turn back," he told the judge, according to Le Monde. "But if I chickened out, I was in danger of looking like a coward."
The court said Kouachi had wanted to attack Jewish targets in France but was told by Benyettou that France, unlike Iraq, wasn't "a land of jihad," Bloomberg News reported at the time.
Prosecutors presented no evidence to the court of any plans to carry out attacks in France, according to a New York Times report.
Kouachi and six other people, including Benyettou, were convicted and sentenced to prison in 2008 for their roles in the recruitment ring.
Kouachi didn't actually go to prison after the trial because half his three-year sentence was suspended and he had already spent enough time in pretrial detention, Bloomberg reported. He was released from custody before the trial.
A former pizza delivery boy, Kouachi was working as a fishmonger in a supermarket at the time of the trial, according to French media.
He told the court that his main interest at the time was rap music, according to Bloomberg.
In 2010, Kouachi was charged in connection with a foiled plot to aid the escape of Smain Ait Ali Belkacem, an Algerian Islamist imprisoned for bombing a Paris commuter rail station in 1995. But public prosecutors later dropped the charges, according to Le Monde.
Kouachi was born in Paris to Algerian parents who died when he and his brother were young, Liberation reported.
He was raised in a home in Rennes, a city in the northwestern French region of Brittany, according to the newspaper. He obtained a qualification in sports education before moving back to Paris, it said.
French newspaper Le Figaro talked to neighbors near the apartment in the northern Paris suburb of Gennevilliers that Kouachi reportedly shares with his wife.
People in the neighborhood described him as polite and reserved, the newspaper reported. The local baker, whose name was given only as Salah, said the younger brother was "always cheerful."
Inside the building, a man who lived on the same floor as Kouachi and his wife described her as wearing a full veil through which only her eyes were visible. The wife "doesn't speak to any man, ever," the neighbor, who was only identified by his first name of Eric, told Le Figaro.
SAID KOUACHI
Much less is known about the elder Kouachi brother, who doesn't appear to have as high a profile as his younger sibling.
A U.S. official says the United States was given information from the French intelligence agency that Said Kouachi traveled to Yemen as late as 2011 on behalf of the al Qaeda affiliate there.
Once in Yemen, the older brother received a variety of weapons training from al Qaeda in the Arabian Peninsula (AQAP) — the affiliate in Yemen — the official said, including on how to fire weapons.
It is also possible Said Kouachi was trained in bomb making, a common jihadist training in Yemen.
A French official told CNN that Said Kouachi received training in Yemen. The official did not give details about when the trip occurred or how long it lasted.
He has never been convicted of a crime and resided in Reims, northern France, French Interior Minister Bernard Cazeneuve told reporters in Paris on Thursday.
His identification card was found in the vehicle abandoned after Wednesday's attack, Cazeneuve said.
"It was their only mistake," Dominique Rizet, BFMTV's police and justice consultant, said earlier.
Mohammed Benali, who runs the mosque in Gennevilliers, the suburb where Cherif Kouachi's apartment is, said the two brothers used to come to Friday prayers there "not assiduously but regularly."
He told Le Figaro that he knew Said Kouachi better, but that he hadn't seen either of the brothers at the mosque in at least two years.
Benali said the older brother was "a very reserved man," but he recalled one angry outburst in the mosque when the imam encouraged the faithful to vote in the presidential election.
Said Kouachi "had an angry reaction, he left the prayer room and voiced his disagreement," Benali said. "For these lunatics, when we practice and teach moderate Islam — actual Islam — we're nonbelievers."
BFMTV reported that like his brother, Said Kouachi was born in Paris and was known to police.
The Liberation report suggested that at the time of Cherif Kouachi's arrest in 2005, the brothers were staying in Paris with a Frenchman who had converted to Islam.
Said Kouachi was taken into custody and questioned during that investigation but was later released, Le Figaro reported.
His name also came to the attention of police during the investigation of the 2010 prison break plot, but there wasn't enough evidence to keep investigating him, Le Monde reported.
Update from Sky News
Paris Massacre Suspects 'Ready To Die'
The Paris terror suspects are holed up at an industrial building near Charles de Gaulle airport with a hostage, and have told police they are ready to "die as martyrs".
One of the "heavily armed" Kouachi brothers turned up at the printing factory wearing black combat gear and a bulletproof vest and claimed to be a police officer. He then told a worker: "Get out of here, we don't kill civilians."
Helicopters are hovering nearby and armed police officers have flooded the area, surrounding Said and Cherif Kouachi. An army tank has been spotted nearby.
Residents of  Dammartin-en-Goele are being told to stay at home, switch off the lights, and stay away from their windows. Hundreds of people are sealed inside some local office buildings, while several schools have been evacuated.
There have been reports that two people have been killed, but Paris prosecutors insist there have been no deaths.
Police are now negotiating by phone with the two suspects, whose hostage is reported to be a 26-year-old man.
At least two planes have aborted landing attempts at the airport as the situation unfolds.
Meanwhile an armed man has taken hostages at a grocery store in eastern Paris , with some reports claiming it is the man responsible for yesterday's policewoman shooting.
There are also reports of an armed incident at the Trocadero metro station near the Eiffel Tower.
Sky's Robert Nisbet said the Dammartin-en-Goele operation is complex and the police are moving at a deliberately slow pace.
"What we are sensing here is no panic, they are taking this very slowly indeed. This operation is complex, this is not something they want to rush."
The stand-off follows a car chase on the N2 motorway earlier in which gunshots were fired between the men and police as their stolen car headed towards Paris.
Three helicopters have been hovering near the factory, close to the country's busiest airport.
A close-up image of one of the helicopters shows armed police sitting at the vehicle's open door with heavy weaponry ready.
In a televised statement interior minister Bernard Cazeneuve said: "An operation is under way which is set to neutralise the perpetrators of the cowardly attack carried out two days ago."
Sky's Crime Correspondent Martin Brunt said: "Police seem to have the situation under control and appear to be in contact – or trying to get into contact – with the two men."
Armed police are ordering members of the media to leave the area, saying the situation is too dangerous.
The brothers' grey Peugot 206 was hijacked from a man in the town of Montagny Sainte Felicite this morning between Crepy-en-Valois and Nanteuil-le-Haudoin.
He said he was told to get out of his car by one of the men, who was armed with a rifle.
He added: "They were very calm, very determined, very composed, very professional, like commandos.
"They weren't sweating. Nothing like that. They seemed like people carrying out an operation."
The two men are believed to be behind Wednesday's terror attack on the headquarters of satirical magazine Charlie Hebdo in which 12 people died.
They then fled the city and are believed to have hid overnight in an area to the northeast of the capital.
Police say the attack is now being linked to a second incident on Thursday in which a policewoman was shot dead and a council worker seriously injured.
The suspect is a known associate of Cherif, French media claims.