Lebanon Ministers Abu Faour, Shehayeb trapped in Beirut port elevator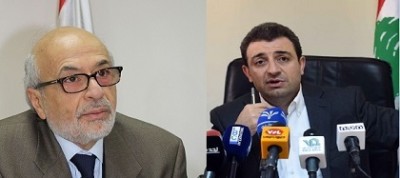 Lebanon's Health Minister Wael Abu Faour and Agricultural Minister Akram Shehayeb were trapped on Tuesday in the elevator of the building of Wheat silos in Beirut's port.
The two ministers remained stuck in the elevator for about 15 minutes before efforts succeeded in getting them out.
According to media reports they were trapped due a technical malfunction.
The 2 ministers were in the building to inspect the wheat silos for the second time after recently announcing that there are major violations at the wheat silos of the Beirut Port.
The case is part of the food safety campaign that Abou Faour launched in October.
Following the inspection Abu Faour stressed that some enhancements were made but not enough, revealing that the file will be referred to the judiciary.
"Those who are responsible will be held accountable," Abu Faour said during a joint press conference with Shehayeb and Economy Minister Alain Hakim.
"The improvements made since the Health Ministry's inspection teams first visit on December 10 are not enough," the Minister remarked.
Abu Faour said that "enhancements made are not enough to protect the Lebanese people."
"A large number of birds is found, which facilitates the transfer of germs… The trucks moving the wheat are not in a good condition."
This is the second time Abu Faour inspects the grain silos. The last time he inspected it was December 10 .
"The Lebanese are sharing their food with pigeons and rats," the minister concluded.
For his part, minister Shehayeb described the situation as "disastrous."
"The matter should be swiftly treated." He said
Minister Hakim, however, said that improvement will take a month to to be completed , vowing to rectify all the required food safety violations "until we reach a safe harboring environment at the port."