Iranian missiles, drones for hezbollah targeted in Israeli strike near Damascus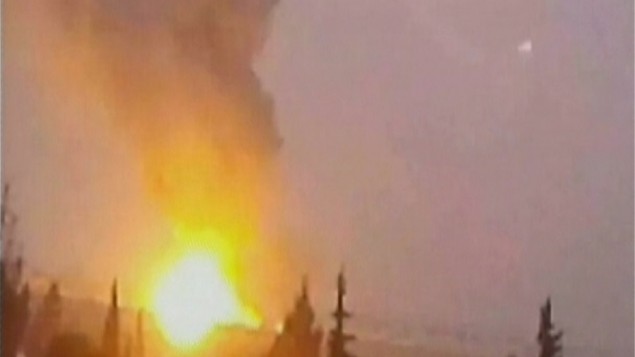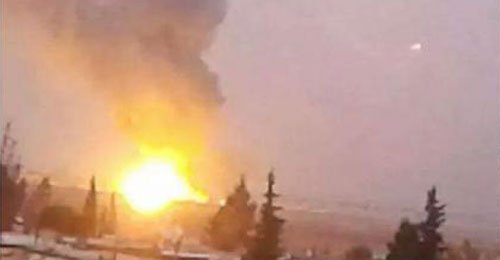 The Damascus airport warehouses targeted in suspected Israeli airstrikes Sunday held Iranian missile systems destined for the Lebanese Shiite movement Hezbollah, a Lebanese security source told dpa.
A Syrian military source confirmed that the hangars at Damascus International Airport contained missiles but gave no details about their origin or destination.
The Syrian Observatory for Human Rights, a monitoring group, described the target as an import-export warehouse in the military area of the airport.
The Lebanese official, who requested anonymity because he was not authorized to speak to the media, said a Hezbollah convoy heading to Lebanon had been hit in another set of strikes at Dimas, approximately half-way between Damascus and the Lebanese border.
The strikes hit an air base at Dimas where advanced Iranian drones were stationed along with Syrian troops and Hezbollah forces, the Syrian official said.
There have been several reported observations of Iranian drones during the Syrian conflict.
Iran is Syrian President Bashar al-Assad's closest ally, and Iranian-aligned Shiite militias including Hezbollah have played a key role in backing up his overstretched forces.
Israel officially refused to comment on the airstrikes, but a security official told Israel Radio that it had from the beginning of the conflict set out a number of "red lines."
Those included any violation of its sovereignty, transfers of chemical weapons to Lebanon, and transfers to Hezbollah of any weapons that would alter the balance of power in the region, the official, speaking on condition of anonymity, told the broadcaster.
Israel has mounted several airstrikes inside Syria since an uprising started against al-Assad's regime in 2011.
The strikes reportedly targeted sophisticated weapons destined for al-Assad's allied Lebanese Hezbollah movement.
Israel has never confirmed the hits.
The UN meanwhile published a report saying its observers had observed Syrian rebels "sporadically … interacting" with Israeli armed forces on the ceasefire line between Syrian- and Israeli-controlled areas of the Golan Heights.
Israeli soldiers had also been observed allowing two individuals to cross the closed border gate towards the Syrian side, Secretary General Ban Ki-moon said in his quarterly report on the activities of the UN Disengagement Observer Force, which monitors the Syrian-Israeli ceasefire on the Golan.
DPA