Carter expected to replace Hagel as U.S. defense secretary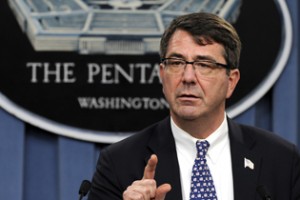 Former Pentagon official Ashton Carter emerged on Tuesday as the expected nominee to replace Chuck Hagel as U.S. defense secretary, sources familiar with the situation said.
Carter, a former deputy secretary at the Department of Defense, would have the task of breaking into the tight-knit White House inner circle that President Barack Obama has leaned on to run national security policy.
His influence would be tested as the United States wrestles with a growing list of international crises – from the battle against the Islamic State in Iraq and Syria to troubled ties with Russia and a still-resilient Taliban enemy in Afghanistan.
A variety of sources inside and outside the administration said Carter was the front-runner and was expected to be the nominee. One person familiar with the situation said his nomination was "almost certain."
An announcement was expected in the coming days, an administration source said. The White House and the Pentagon had no comment.
Hagel resigned under pressure last week after less than two years at the helm of the Defense Department. Whoever replaces him will be Obama's fourth defense secretary.
Hagel had privately expressed frustration with his inability to influence major questions of U.S. security strategy, including the fight against Islamic State. His relationship with Obama's inner circle at the White House was strained.
Carter, 60, served for four years in senior Pentagon jobs and was the No. 2 official at the Pentagon from October 2011 to December 2013, when he stepped down. Previously, he was the Pentagon's chief arms buyer, giving him deep knowledge of defense procurement and weapons policy and control over billions of dollars in spending.
He also served as assistant secretary of defense for international security policy under President Bill Clinton.
The top job may fall to him by default. Another top candidate, former Pentagon official Michele Flournoy, abruptly withdrew from consideration last week, as did Democratic Senator Jack Reed of Rhode Island.
Administration sources said Homeland Security Secretary Jeh Johnson had been a candidate but was no longer in the mix. Former Navy Secretary Richard Danzig and Kurt Campbell, a former assistant secretary of state, had also been seen as contenders.
Carter has bachelor's degrees in physics and medieval history from Yale, a doctorate in theoretical physics from Oxford University, where he was a Rhodes scholar, according to the Pentagon website.
Reuters