In food-crazed Lebanon, a war over messed-up meze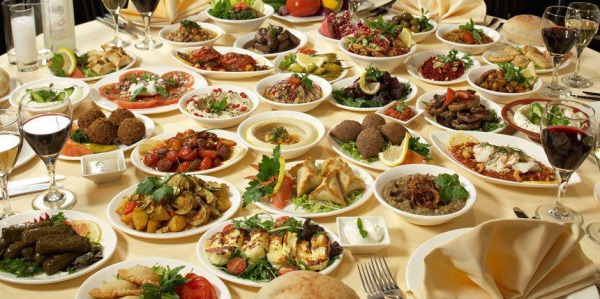 When it comes to cuisines of the Arab world, perhaps none other is as internationally recognizable — and mouthwatering — as Lebanon's.
There is more than a little pride here over the tangy fattoush salads, delectable mezes and dishes of skewered chicken and lamb that have distinguished this tiny Mediterranean nation as a culinary powerhouse.
Which helps explain the shock and furor that erupted over recent findings that food offered at scores of Lebanon's restaurants, supermarkets, bakeries and butcher shops is tainted with not only bacteria such as E. coli and salmonella but also sewage and fecal matter.
The revelations were the result of a sweeping investigation, led by the Health Ministry, into food-industry hygiene. Wael Abu Faour, the health minister, did not sugarcoat the findings when he announced them at a news conference last week.
"The Lebanese don't know what they're eating, and it would only be worse if they knew," he said.
In excruciating detail, he named and shamed popular eateries and supermarket chains as public-health offenders. Their infractions included selling expired meat and using rusty cooking utensils and months-old frying oil. Germs also abounded in restaurant kitchens and supermarkets, said Abu Faour, who singled out an unspecified business for selling food containing traces of human feces.
"The Lebanese are eating food dipped in sweat and covered with diseases and microbes," he said.
The findings — which emerged from a 20-day campaign in which thousands of food samples from 1,005 businesses were tested — have proved explosive.
"Lebanese consumers learn they are eating [s—]," read a headline last week in the newspaper al-Akhbar.
Pop stars have weighed in. In apparent solidarity with one of the cafes found to be dishing out contaminated chicken breasts, one popular singer posted a photo on her Instagram account of a chicken burger and potato wedges from that eatery.
One might expect the scandal to be a sideshow to Lebanon's more pressing problems. The country's economy has been hobbled by an influx of more than 1 million refugees from Syria. The raging Syrian civil war, meanwhile, has badly divided Lebanese society and fueled attacks by militants.
Yet Lebanese officialdom has jumped on the food scandal, with the economy minister accusing Abu Faour of "terrorizing" local businesses.
"It's all political theater," Wassim Chaar, the manager of the Malek el-Batata restaurant in Beirut, said by telephone. Malek el-Batata was closed last week over hygiene problems, but Chaar insisted that the eatery, popular for shawarma, falafel and hamburgers, was "absolutely clean."
Abu Faour was dismissive of the criticism about his investigation.
"It's a jungle!" he said in a telephone interview, referring to the brickbats directed at him. "But the people have a right to this information."
He also has vowed to expand the scrutiny to drinking water and to cosmetic surgery clinics, another prominent industry here.
Abu Faour, who has received a torrent of support on Twitter and Facebook, appears to have tapped into national frustration over a sectarian-based political system with chronically weak state institutions. Factional squabbles have left the presidency vacant for five months, and electricity production has flagged, forcing much of the country to rely on generators to keep the lights on.
When it comes to food quality, many Lebanese have long suspected that eateries and supermarkets are being allowed to cut corners. "Every time my cousins visit from Canada and France, they get food poisoning," said Riham el-Hage, 22, a business student at the Beirut-based Lebanese American University.
Washington Post