Aoun reveals that dialogue with Hariri has ended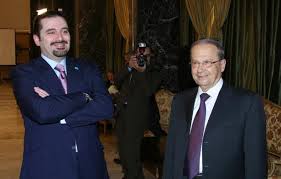 Free Patriotic Movement leader MP Michel Aoun revealed in remarks published Monday by the Lebanese daily As-Safir that presidential election dialogue talks with the Future Movement leader Saad Hariri has ended after Saudi Arabia rejected him as a presidential candidate.
"This dialogue has ended after Saudi Arabia's Foreign Minister Saud al-Faysal vetoed my candidacy ," Aoun told As-Safir.
"When the moment of truth came and we were waiting from him (Hariri) the final answer, he began to procrastinate in a sign that he did not have the necessary authorization" to engage in such dialogue, said Aoun.
The FPM chief has not officially announced his candidacy for the presidency but the MPs of his Change and Reform bloc boycotted more than a dozen rounds of parliamentary sessions to prevent the election of March 14 candidate Lebanese Forces leader Samir Geagea as the new head of state.
Aoun was responding to a question over the progress of talks between him and former PM Hariri.
On the other hand Aoun stressed "strategic" ties between the FPM and Hezbollah despite their differences on the parliamentary extension.
Commenting on Parliament's extension, Aoun said the real reason behind the move was to "prevent changing the current parliamentary majority, thus keeping control of the presidential election."
Hezbollah MPs voted in favor of the extension of Parliament's mandate until 2017, while the FPM boycotted the session.
Lebanon has been without a president since Michel Suleiman's term ended in May with lawmakers botching several attempts to elect a successor over lack of consensus.