Hezbollah chief calls for dialogue with Future Movement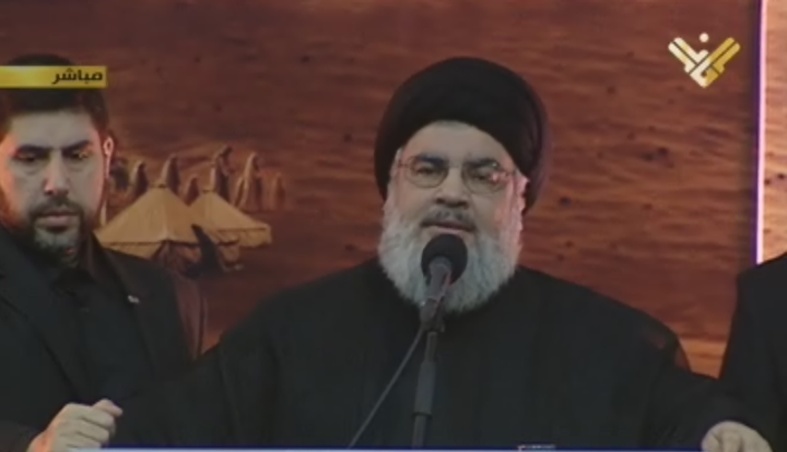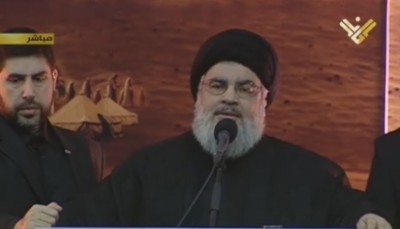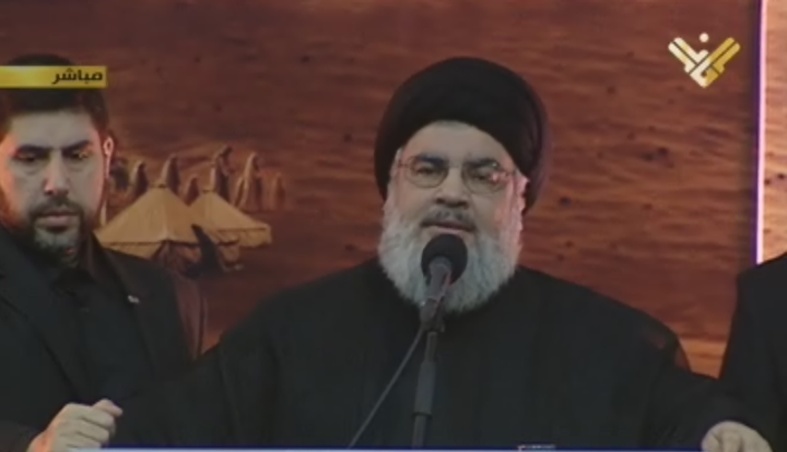 Hezbollah chief Hassan Nasrallah made a rare public appearance on Monday in the Lebanese capital's southern suburbs, addressing thousands of his supporters ahead of the Shiite Ashura commemorations.
As he appeared on stage wearing a black robe and turban, the crowd seen in a live broadcast on Hezbollah's Al-Manar television began cheering wildly, as they apparently had not expected to see him.
The head of the Shiite militant group, whose forces are fighting in Syria alongside the troops of President Bashar al-Assad, usually addresses supporters via video link for fear of assassination by arch-foe Israel.
Nasrallah had not been seen in public since July, when he attended a rally to show support for the Israeli-blockaded Gaza Strip.
But Monday's appearance in the southern suburbs of Beirut, a Hezbollah stronghold, was his sixth since his group fought Israel in a devastating and deadly war in 2006.
Nasrallah has topped Israel's most wanted list since even before that 34-day war, and his group has also made enemies with Sunni jihadists from Syria since its involvement in that country's conflict.
Hezbollah's fighters clashed with jihadists in eastern Lebanon in October, and its strongholds have come under repeated bomb attacks over its involvement in the Syrian conflict.
The Hezbollah leader called for a large turnout on Tuesday, which sees the peak of Ashura, a festival that marks the killing of Imam Hussein, one of the most revered figures of Shiite Islam and grandson of the Prophet Mohammed.
"Tomorrow we will prove that we are above any threat, any danger, any challenge," Nasrallah said.
Supporters chanted "We are at your command, O Hussein," a traditional Shiite rallying cry.
Hussein was killed at the hands of soldiers of the caliph Yazid in 680 AD, an event that lies at the heart of Islam's sectarian divide into Shiite and Sunni sects.
Lebanese police will close off the Shiite-majority southern suburbs of Beirut for Ashura from midnight until the end of the commemorations.
Hezbollah is planning to hold a massive rally in the southern suburbs of Beirut on Tuesday, and Nasrallah is due to address the crowds again.
The Hezbollah chief also publicly announced for the first time that Free Patriotic Movement leader Michel Aoun is Hezbollah's presidential candidate.
Lebanon has been without a president since former head of state Michel Sleiman's term ended in May, with political rivals squabbling over a successor.
Lebanese parliament is tasked by the constitution to select a president, a decision that has already been put off 14 times as the war in Syria continues to divide rival political blocs.
DIALOGUE WITH FUTURE
Time has come for Hezbollah and the Future Movement to open a new page and focus on moving Lebanon forward, Nasrallah said Monday as he praised his rivals.
"We disagree on a lot of issues, and we disagree with our local and regional analyses. Sometimes we become enemies and rivals, but our religion teaches us that we must thank and praise those who regard the national good," Nasrallah said
Nasrallah lauded the Future Movement and its leadership for helping bring an end to the deadly four-day clashes in Tripoli and other parts of the north last week that pitted the Army against Islamist militants.
"If we want to preserve and neutralize the country then we need dialogue. During the last few days allied factions have told us that the time has come for a dialogue between the Future Movement and Hezbollah. We are ready for this dialogue."
We highly value the stances of the prime minister, the Mufti and the ex-PMs, but the main role was played by the Future movement and its leaders. We might have very different viewpoints but our morals oblige us to take the right and patriotic stance and to thank them and appreciate them despite our differences.
The main factor that helped Lebanon overcome the crisis was the behavior of the residents of Tripoli and the North and the political leaders of the dear Sunni community. Had it not been for this honorable and decisive stance from all these Sunni leaders, things in Tripoli and the North would have taken another course.
Nasrallah denied that the conflict in the region is a Sunni Shiite conflict.
AP/ YL