Future Movement condemns Hezbollah chief 's Ashura speech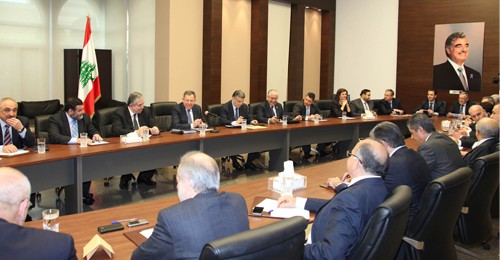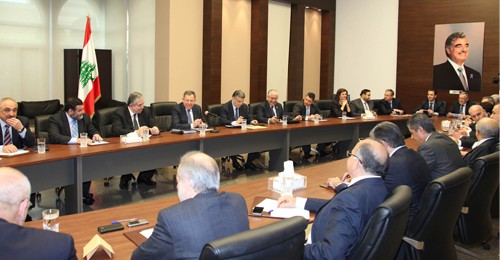 The Future Movement which is headed by former PM Saad Hariri condemned Tuesday the comments made on Monday by Hezbollah chief Hassan Nasrallah during the Ashura ceremony in Beirut's southern suburbs in which he claimed Saudi Arabia bore responsibility to prevent takfiri ideology from spreading.
The timing of Nasrallah's comments against Saudi Arabia "proves that Hezbollah works to aggravate Lebanese problems… rather than ease the crisis," read a statement issued after the Future Movement parliamentary bloc's weekly meeting.
The statement said that "Saudi Arabia has always stood beside Lebanon and has fully supported its security, independence and sovereignty," describing Nasrallah's position as "strange" given the substantial aid that the Kingdom has pledged to the Lebanese Army.
Saudi Arabia granted to Lebanon during the past 10 months $4 billion to arm and train the Lebanese army to fight terrorism.
Nasrallah refers to ISIS and Nusra front as takfiris.
But on Tuesday the Grand Mufti of Saudi Arabia said that Groups such as the Islamic State of Iraq and Syria (ISIS), Al-Nusra Front and the Muslim Brotherhood are misguided and do not have any connection to Islam.
"If you were to have a thorough examining look you would find that they do not have a shred of connection to Islam. They have adorned their opinions and vanities with the robes of Islam in order to deceive the people. You would find them to be misguided, for they have shed blood, violated sanctities, looted funds, created mischief in the earth and stolen countries unlawfully." The Saudi Grand Mufti who is the highest spiritual authority in the mostly Sunni kingdom was quoted as saying .
The top Saudi cleric added:
"All the methods of these groups are false. There are things behind them and there is no good in them. We do not trust them or trust their people. Whoever invites our youth to join these misguided factions is mistaken and is straying far away from the right path."
Last August the same Saudi top cleric branded ISIS and al-Qaeda as "enemy number one" of Islam.
"The ideas of extremism, radicalism and terrorism … have nothing to do with Islam and (their proponents) are the enemy number one of Islam," the kingdom's top cleric said in a statement on August 19.
Also last August Saudi Arabia donated $100 million to the United Nations Counter-Terrorism Centre (UNCCT) to help combat terrorism.
"Terrorism is an evil that must be eradicated from the world through international efforts," Saudi Ambassador to the United States Adel al-Jubeir said during a ceremony at the United Nations in the presence of U.N. Secretary-General Ban Ki-moon.
Commenting on Hezbollah's attack against Saudi Arabia Future Movement MP Ahmad fatfat was quoted as saying on Tuesday:
"These are Iranian words , not Lebanese. If Nasrallah was truly Lebanese he would have mentioned the support Hezbollah has been receiving from Saudi Arabia before and after 2006."
Fatfat added: " These groups Nasrallah is referring to are considered enemies of Saudi Arabia and the kingdom is part of the alliance that is fighting them in both Iraq and Syria."
Fatfat blamed Hezbollah's role in Syrian civil war for the security situation in Lebanon .
Thousands of Hezbollah fighters are helping the Syrian regime of president Bashar al Assad against the mostly Sunni rebels who are trying to oust the regime.