Top Shiite cleric calls for backing Lebanon army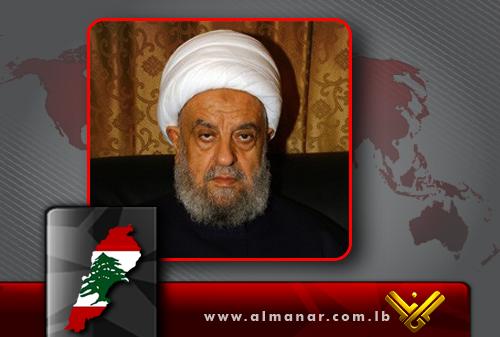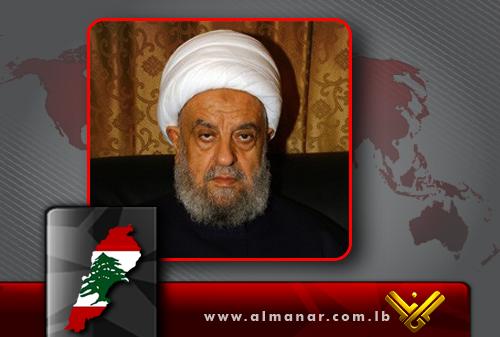 The top Lebanese Shiite cleric , deputy head of the Higher Shiite Islamic Council, Sheikh Abdul Amir Qabalan called on Sunday during his sermon on the occasion of Eid al-Adha on the Lebanese to distance themselves from strife and to support the army.
Qabalan , who hoped for peace and security said:
"We should steer clear of conspiracies … and strife."
He also urged the Lebanese to back the military which for the past two months has been fighting militants near the border with Syria.
The army should win in the battlefield, Qabalan said and urged the Lebanese to back the military
The Islamist extremists from al-Nusra Front and the Islamic State group crossed into the northeastern border town of Arsal from Syria in early Augustand captured soldiers and policemen.
Two of the soldiers have since been beheaded and one has been killed in captivity.
Qabalan's comments come after Grand Mufti of the Republic Sheikh Abdul Latif Daryan warned during his Eid al-Adha sermon at Mohammed al-Amin mosque in downtown Beirut that the nation was under threat because of political divisions and stressed that those committing inhumane acts in the name of religion were not faithful.
"The atrocities committed in the name of religion confirm that they (the perpetrators) don't have faith," said Daryan who was recently elected as the new Mufti.
This weekend marks Eid al-Adha, one of the most celebrated holidays by all Muslims across the world commemorating the Prophet Abraham's willingness to sacrifice his son Ismail as an act of obedience to God.
Many March 14 leaders are of the opinion that the involvement of Iran and Hezbollah in the ongoing conflict in Syria is the main reason behind the emergence of the Islamic State in Iraq and Syria.
Iran is reportedly calling all the shots in Syria and , Lebanon's Shi'ite Hezbollah militants are fighting alongside Syrian president Bashar al Assad's forces.
Hezbollah fighters have played a significant role in helping Assad recapture border towns from Sunni rebels.
Bekaa Valley towns loyal to Hezbollah have come under rocket fire by Sunni rebel fighters .
Experts fear that pro-Assad or rebel fighters may move the conflict deeper into Lebanese territory.