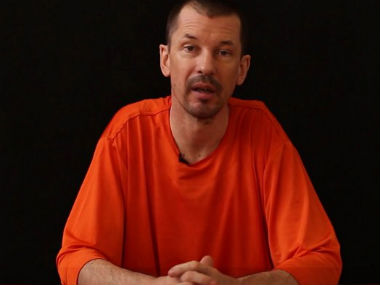 LONDON: A new propaganda video featuring John Cantlie, a British photojournalist captured almost two years ago by Islamic State group in Syria, reading scripted messages has been released by the dreaded terrorist outfit.
Cantlie, seen wearing an orange Guantanamo-style jumpsuit in the five-and-a-half minute video, delivers a speech directly to the camera using a sing-song tone, attacking US President Barack Obama's strategy in Iraq and Syria.
The 43-year-old, who has worked for newspapers including the Sunday Times, criticises US tactics of using airstrikes and proxy Kurdish and Iraqi ground forces against the Islamic State group.
"Air power is good at taking out specific targets but it is not good at taking and holding ground," he said, sitting behind a similar desk setting as before.
"For that you need effective and disciplined troops and it's hard to see how this hotch-potch army with a long history of underperforming is going to be any form of credible infantry," he adds.
It was unclear where the video — introduced with the title 'Lend Me Your Ears and Messages From The British Detainee John Cantlie' — was made.
Cantlie added that organising the Iraqi army into a proper fighting force would take months and dismissed the free Syrian army as "undisciplined, corrupt and largely ineffective".
Cantlie was first paraded in front of the cameras two weeks ago, promising a series of videos giving the real story of ISIS.
It was the first that had been heard from him since he was captured inside Syria close to the border with Turkey towards the end of 2012.
An experienced journalist and photographer, this is Cantlie's second time being held captive in Syria.
After being kidnapped in July 2012 and handcuffed and blindfolded for a week, he escaped with the help from the free Syrian army.
He returned to Syria towards the end of 2012 and it was during this trip that he was abducted for the second time.
The latest clip has been circulated as the US and the UK launched airstrikes against ISIS in Syria.
Cantlie hints that there would be more such videos, saying: "Join me again for the next programme."
The militant group has beheaded two American hostages and one Briton, and have threatened the life of another British hostage Alan Henning, who was who was kidnapped while delivering aid to Syria.
Times of India