Ukraine tells UN 'We know what terrorism means', urges against lifting Russia sanctions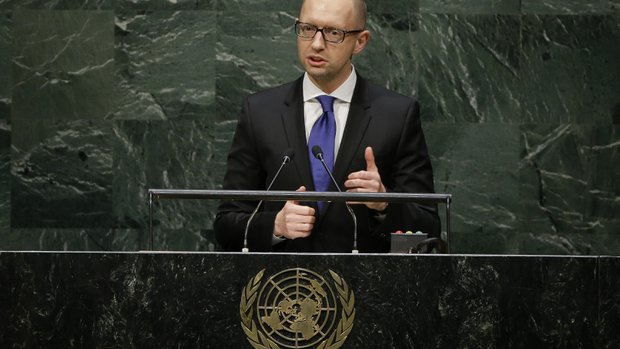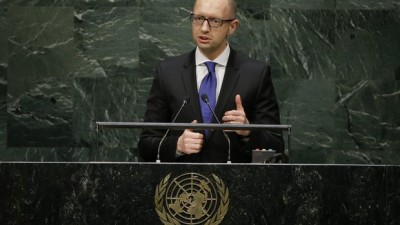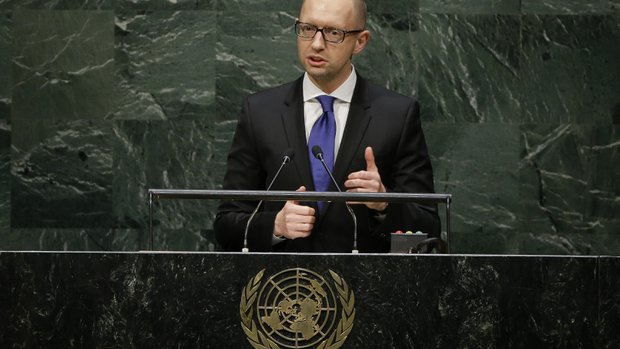 Ukraine's prime minister on Wednesday urged countries not to lift sanctions against Russia until his country regains control over its entire territory, including Crimea.
Ending a day of intense discussions over the growing global threat of extremist groups, Arseniy Yatsenyuk told the annual U.N. General Assembly of world leaders that "we know what terrorism means."
He demanded that Russia pull back its forces from eastern Ukraine, "stop the supply of Russian-led terrorists" and start "real talks, peace talks."
The months-long fighting between pro-Russian separatists and Ukrainian forces has been another major theme of speeches at the global assembly this week.
Yatsenyuk's comments on sanctions revealed concerns about President Barack Obama's address to the world meeting earlier in the day.
If Russia follows through on a cease-fire signed this month with Ukraine, the U.S. will lift economic sanctions that have damaged Russia's economy, Obama said. He said the agreement "offers an opening" for peace.
The U.S. has imposed multiple rounds of economic sanctions targeting Russia's energy, defense and financial sectors, as well as penalties on government officials and other individuals close to Russian President Vladimir Putin. The European Union also has ordered sanctions.
So far, however, the sanctions have done little to shift Putin's approach to the crisis, and the recent cease-fire has been violated repeatedly.
Ukraine and the West say Russia has provided personnel, arms and expertise to the separatists, a claim Moscow denies. The fighting that began in mid-April has killed more than 3,500 people.
Neither Putin nor recently elected Ukrainian President Petro Poroshenko is attending the U.N. assembly.
The Security Council has met repeatedly on the Ukraine crisis but failed to take action because Russia holds veto power as a permanent council member. The inaction has infuriated many countries including some former Soviet republics that have warned of the dangers of Russian expansionism.
Yatsenyuk vowed that Crimea, which Russia annexed earlier this year after a hastily arranged referendum largely protested by the international community, is and will remain a part of Ukraine.
The prime minister ended his speech with a simple plea: "Help us, God. Thank you."
Associated Press