Kampala, Uganda – A Ugandan court on Friday invalidated an anti-gay bill signed into law earlier this year, saying the measure is illegal because it was passed during a parliamentary session that lacked a quorum.
Activists erupted in cheers after the court ruled the law "null and void," but some cautioned that the fight was not over: The state could appeal the ruling in the Supreme Court and legislators might try to reintroduce new anti-gay measures.
The law provided jail terms up to life for those convicted of engaging in gay sex. It also allowed lengthy jail terms for those convicted of the offenses of "promotion of homosexuality."
Although the legislation has wide support in Uganda, it has been condemned in the West and rights groups have described it as draconian.The panel of five judges on the East African country's Constitutional Court said the speaker of parliament acted illegally when she allowed a vote on the measure despite at least three objections — including from the country's prime minister — over a lack of a quorum when the bill was passed on Dec. 20.
Nicholas Opiyo, a Ugandan lawyer who was among the petitioners, welcomed the ruling but said there is a missed opportunity to debate the substance of the law.
A colonial-era law that criminalizes sex acts "against the order of nature" still remains in effect in Uganda, allowing for the continued arrests of alleged homosexual offenders, Opiyo said.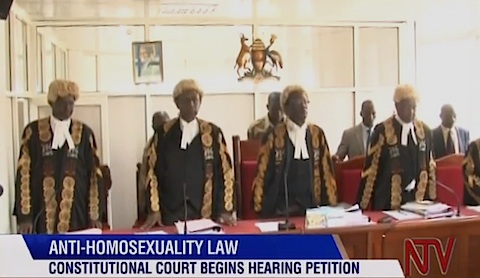 SLTrib