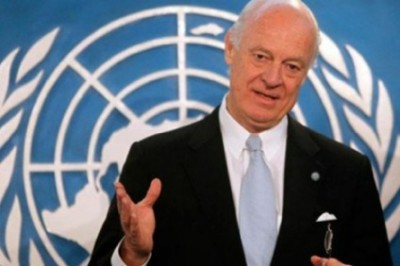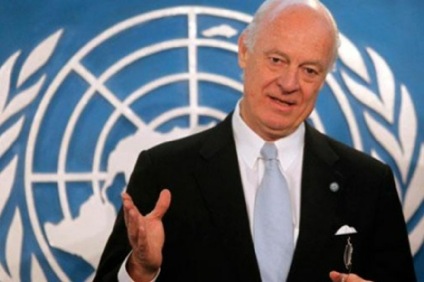 Veteran Italian-Swedish diplomat Staffan de Mistura has been chosen by U.N. Secretary-General Ban Ki-moon to replace Lakhdar Brahimi as the international point man on Syria, diplomats said Wednesday.
The diplomats, speaking on condition of anonymity ahead of an expected announcement, said de Mistura will be the U.N. envoy — not the joint U.N.-Arab League envoy, as Brahimi was — and will have an Arab deputy.
Ban told reporters late Wednesday that an announcement is "very close" but he needed "to get everybody on board." The diplomats said they expect de Mistura to be officially named on Thursday.
Brahimi resigned May 31 after nearly two years of failed efforts to end Syria's worsening civil war. He followed in the footsteps of his longtime friend, former U.N. secretary-general Kofi Annan, who resigned from the same job in August 2012 after failing to broker a cease-fire as the country descended into war.
Ban cast some blame on Syria's rebels but was especially critical of President Bashar Assad's government, the divided U.N. Security Council and feuding influential nations for failing to help Brahimi achieve a peace agreement.
That leaves de Mistura facing an immense challenge as he tries to succeed where Brahimi and Annan failed.
Brahimi managed to get officials from Assad's government and the opposition to two rounds of U.S. and Russian-brokered peace talks in Geneva aimed at establishing a transitional government, but they ended without an agreement.
Brahimi had been working behind the scenes to start a new round of negotiations, but that effort was all but doomed when the government announced that elections would be held on June 3. Both Brahimi and Ban indicated it would be impossible to get the opposition to participate in new negotiations for a transitional government after Assad was elected to a new seven-year term.
With the Syrian government on the offensive, rebel divisions deepening and the takeover of areas near the Iraqi border by the Islamic State extremist group, de Mistura will have an even tougher time getting the warring parties to the peace table.
But just before he left, Brahimi suggested seven steps that could lead to "a serious peace process."
They include expanding humanitarian aid, reducing and ending violence, and forming "an executive" to lead Syria's transition and organize a national dialogue, a review of the constitution, national elections and an end to the flow of arms into the country.
As the U.N. envoy, de Mistura will have a somewhat easier task than his predecessors because he will have only one boss — the U.N. secretary-general — not the deeply divided Arab League as well, which diplomats say created difficulties for both Annan and Brahimi.
Born in Stockholm, de Mistura had a 40-year career with the United Nations and recently served as deputy foreign minister in the Italian government headed by Mario Monti, who was also rumored to be a candidate to replace Brahimi.
De Mistura worked for various U.N. agencies and served as the top U.N. envoy in Afghanistan in 2010-11 and in Iraq from 2007-09, and as the secretary-general's personal representative for southern Lebanon from 2001-04.
In May, de Mistura was appointed president of the board of governors for the European Institute of Peace, an independent Brussels-based foundation that conducts mediation and informal dialogue to promote the global peace agenda of the European Union.
De Mistura, 67, speaks seven languages including colloquial Arabic, according to the Italian Foreign Ministry.
While working as a deputy foreign minister, he was sent to India in early 2012 to lead Italian negotiations with the Indian government over the arrest of two Italian marines for allegedly shooting to death two Indian fishermen mistaken for pirates.
De Mistura's discussions and numerous trips to India didn't break the impasse, and two subsequent governments have also failed to secure the marines' release.
ABC/AP