Egyptian cabinet resigns in surprise move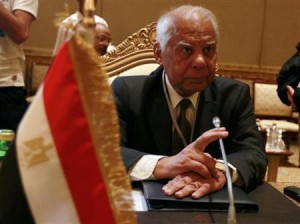 Egyptian Prime Minister Hazem el-Beblawi announced Monday that his cabinet was resigning, marking yet another abrupt shift in a nation that has been wracked by insurgency and political and economic uncertainty.
"Today the cabinet took a decision to offer its resignation to the president of the republic," Beblawi said in a statement to Egyptian state television.
He did not offer any reason for the surprise move. But the mass resignation paves the way for the country's powerful military commander, Field Marshal Abdel Fatah al-Sissi, who is also the country's defense minister and first deputy prime minister, to run for president.
Beblawi and the current cabinet were appointed last July, after Sissi led the military in ousting the Egypt's first democratically elected president, Mohamed Morsi.
Cabinet reshuffles have occurred frequently in the past three years of political unrest in Egypt, since a popular uprising ended the 30-year rule of strongman Hosni Mubarak.
But analysts say the country has moved increasingly over the past eight months to resume the profile of a military autocracy. The state has carried out a heavy-handed crackdown on Morsi's supporters in the Muslim Brotherhood, effectively eradicating an organization that once represented the country's most organized political force.
Critics have derided the country's post-coup interim president and government as puppets of the military leadership. Rumors circulated about an imminent cabinet reshuffle after Egyptians voted last month to approve a new military-backed constitution.
"I would assume that it's the reshuffle that has been expected for a while, but that most of the cabinet will remain," said Issandr El Amrani, an Egypt expert who oversees the International Crisis Group's North Africa division. It has been typical for an entire cabinet to resign as part of a reshuffle, before being mostly reappointed to the same positions, Amrani said of Egypt's recent history. "This is probably Sissi stepping down."
Sissi, who last month was promoted to field marshal — the military's highest rank — has signaled that he would likely compete in Egypt's upcoming presidential election, slated for spring. It is a contest that most here believe he will easily win. Sissi enjoys vast popularity, and — due to the state's ongoing crackdown that has landed virtually all of the military's formidable opponents in jail — he faces little competition.
But analysts say that to compete, Sissi would have to formally resign from his position as defense minister.
"A lot of information and knowledge stands behind every decision that is made, and it's in the [country's] best interest for [that information] not to be published," Beblawi said cryptically of the cabinet resignation, in his address to the nation. "If it were published, it would be apparent to the people why this decision was taken."
Following Beblawi's announcement, the state news agency reported that the cabinet would continue to fulfill its duties until its resignation was accepted by the president.
Washington Post