Crude barrel bombs devastate Syria's Aleppo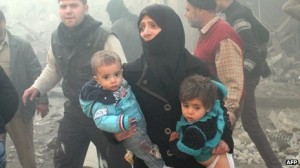 KILIS, Turkey – The Syrians who reach this Turkish border town after escaping the northern city of Aleppo bring stories of horror about exploding barrels that fall from the sky.
The worst part is the terrifying anticipation as the barrel bombs are unleashed from warplanes roaring overhead, said one man who fled after three bombs demolished the street where he was living. The sight of rescuers scraping human remains from the sidewalk outside her home prompted another of the refugees to leave. A third Syrian, a grandmother, said she left simply because life had become unsustainable in the wrecked, rubble-strewn city, where entire neighborhoods have been almost completely depopulated.
"Aleppo is empty," she said as she sat surrounded by luggage and children after arriving in Turkey this week. "There's no one left — no shops, no markets, no life at all."
As peace talks in Geneva ended in deadlock Saturday, with U.N. mediator Lakhdar Brahimi setting no date for their resumption, the Syrian government's barrel bombing campaign against the rebel-held half of Aleppo offers a glimpse of what may lie ahead for the country now that negotiations have failed.
The campaign, which began in December, intensified as the peace talks got underway last month, underlining one of the biggest impediments to a negotiated settlement, said Salman Shaikh of the Brookings Doha Center in Qatar.
"The regime feels it can win this on the battlefield and they feel they can win this politically," giving it little incentive to compromise in the peace talks, he said.
Seemingly unlimited barrels
Over the past week, the attacks reached a new peak, triggering a fresh exodus of panicked people into the surrounding countryside and across the border into Turkey.
The barrels — crude cylinders stuffed with TNT that are being tipped out of warplanes at the rate of 20 a day — have killed hundreds and injured thousands. They are almost all being dropped over residential areas, and though they lack precision, they are systematically hitting one neighborhood after another, suggesting an intent to drive people out, residents say.
Barrel bombs are also increasingly being deployed in other rebel strongholds around Syria, bringing a new dimension to the violence of a war already renowned for its brutality. Unlike the sarin gas and ballistic missiles that the government of Syrian President Bashar al-Assad has previously deployed to crush the rebellion, barrel bombs are cheap and easy to manufacture from readily available components, and the government has a seemingly unlimited supply.
They are also powerful enough to demolish apartment buildings, obliterate homes and incinerate people, and their stepped-up use has been the primary cause of a sharp increase in deaths in Syria over the past three weeks. The Syrian Observatory for Human Rights estimates that 3,400 people have been killed since the Geneva talks began, making the more than three weeks since "the most concentrated period of killing in the entire duration of the conflict," according to Samantha Power, the U.S. ambassador to the United Nations.
'The end of the world'
In Aleppo, Syria's former commercial capital and a key strategic prize, the government appears to be pushing for the kind of successes that it has achieved elsewhere by making life untenable for ordinary people, said Amr Al Azm, a history professor at Shawnee State University in Ohio.
That, in turn, puts pressure on opposition fighters to submit to cease-fire deals similar to those that have pacified several suburbs of Damascus in recent months, as well as the recent agreement that brought aid to the center of Homs.
"They're going about destroying popular support for the opposition by essentially destroying the area over the heads of the civilians," said Azm, who is Syrian and supports the opposition.
According to Syrians who have crossed into Turkey, hauling the few possessions they managed to grab, the barrels are bringing the city to its knees.
"I can't even begin to talk about it," said a white-faced woman who slumped onto the ground near the border gate. She had just completed a 24-hour journey ferrying her three small children and their possessions, which were stuffed into two small sacks and a garbage bag.
"The doors flew in. The doors flew in," she repeated over and over, describing the moment a barrel bomb struck her building.
Carpenter Abu Hussein, 40, piled mattresses, blankets, pots and pans into his car and drove out of Aleppo earlier this week, navigating piles of masonry from bombed buildings and lakes of water from burst pipes in neighborhoods emptied of inhabitants.
"It's like the end of the world," he said. "The only people left are the poorest of the poor, and they are just waiting for death."
"Assad will kill everyone in order to stay in his position, and maybe we should let him," he said, expressing a view increasingly shared even by Syrians who oppose his rule. "It pains me to say it, and it doesn't mean I think he is not a war criminal. But anything to make this stop."
In a hospital bed in Kilis, Mohammed Abdo, 30, recounted the aftermath of the barrel bombing that sent shrapnel into the left side of his head as he was driving into Aleppo. He lost consciousness for several minutes, then awoke to scenes of gruesome horror glimpsed through the blood streaming down his face.
"I saw body parts all over the street. There was a body hanging from the electricity cables. There were injured people everywhere," he said. "But only a few people were helping them, because everyone is afraid to go outside."
As the campaign continues, vital services such as health care are breaking down, said Abdo, who was brought to Turkey by a relative because Aleppo's few functioning hospitals were too busy to treat him.
"It's an absolute disaster in those streets," he said.
In exile
The number of daily casualties is falling, however, as entire neighborhoods empty, doctors say. Hundreds of thousands of people have fled into the surrounding countryside, according to the Syrian opposition, and the United Nations says an additional 20,000 have arrived in Turkey, the biggest influx in more than a year.
The exile brings a new ordeal: finding shelter and food in a strange land. There is no room left in the camps Turkey has built, and most of the new arrivals are left to look after themselves.
Diaa Adeen, 51, lamented that she did not know where she, her four daughters and six grandchildren would sleep that night, but she then broke into a smile.
"Thank God we are safe," she said. "It is worth it not to hear the sound of those planes in the sky."
Washington Post
Photo: Reports say the barrel bombs struck three districts and a school was hit