4 more Syrian airstrikes target a Lebanese border town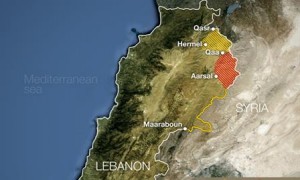 Syria's air force launched on Monday four strikes on the outskirts of the town of Arsal, which is near the Syrian border , causing no casualties, a Lebanese security source told NOW news.
The report added that two missiles targeted the town of Wadi Hamid, while two others hit the town of Wadi Ajram.
The raid was the latest in a string of cross-border strikes targeting the mostly Sunni town of Arsal. On January 17, shells rained down on the town, killing eight people, including five children.
A December air raid prompted the Lebanese army to fire back with anti-aircraft guns.
Arsal's residents support the revolt against President Bashar al-Assad, and the town has become home to thousands of Syrians who have fled the fighting.
Lebanon is deeply divided over the Syrian war, with Sunnis backing the Sunni-led revolt and Shiites largely supporting the Assad regime.
The divisions have widened since Lebanon's Shiite movement Hezbollah officially acknowledged last May that its fighters are in Syria to help the troops loyal to president Bashar al Assad's regime against the mostly Sunni rebels who are trying to topple the 40 year old dictatorship.
The division is so bad that the foreign minister of lebanon refused on Saturday to condemn the Syrian shelling of Lebanon and also refused to compare it to Israeli assaults against the country.
Caretaker Foreign Minister Adnan Mansour, who represents Speaker Nabih Berri( an ally of Hezbollah ) in the cabinet told Voice of Lebanon radio (93.3) : "We should not compare Syria's actions towards Lebanon to Israeli assaults against the country."