U.S. diplomat blasts Russia over leaked recordings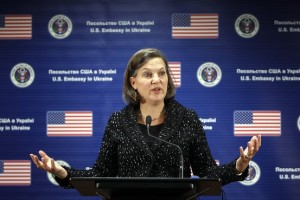 America's top diplomat to Europe lashed out at Russia's alleged leak of a tapped conversation between her and another U.S. State Department official as "impressive trade craft" and dismissed a Kremlin adviser's beliefs on U.S. involvement in Ukraine "complete fantasy."
The leaked recording, posted by an anonymous user on YouTube, featured a conversation between Assistant Secretary of State Victoria Nuland and U.S. Ambassador to Ukraine Geoffrey Pyatt as they discussed coaxing opposition leaders toward a negotiated settlement of Ukraine's political crisis.
"I'm obviously not going to comment on a private diplomatic conversation except to say its pretty impressive trade craft—the conversation was pretty clear," said Ms. Nuland.
The leaked recordings come amid sharpened Kremlin rhetoric toward U.S. involvement in Ukraine, which Moscow regards as a country within its traditional sphere of influence. Earlier this week a top Kremlin adviser, Sergei Glazyev, said in a newspaper interview that the U.S. is arming and training opposition forces in Ukraine, and that Russia could be obliged to respond, without elaborating.
Ms. Nuland said Mr. Glazyev's interview was "complete fantasy—he could be a science fiction writer—it is quite inventive."
Ms. Nuland delivered her comments at the end of a one-day trip to Ukraine in which she met with Ukraine President Viktor Yanukovych and his critics, and tried to get them to cooperate on forming a coalition government that the U.S. and European Union could support with an International Monetary Fund program.
The EU and U.S. hope that an IMF package could provide a way out of the crisis, which was sparked last year when Mr. Yanukovych abruptly shelved plans for signing an EU cooperation agreement and instead accepted a $15 billion aid package from Moscow.
Ukraine has failed to pass the hurdles of two previous IMF programs, and Ms. Nuland stressed that the West needed to see a coalition government committed to economic reforms before discussing a new package. "The support will be substantial for a Ukraine that is reformed."
But Ms. Nuland could point to no breakthroughs during her trip, although she spoke for more than four hours with Mr. Yanukovych on Thursday. During talks "the spirit was good, but there is a lot of work to do."
Although Mr. Yanukovich last month dismissed his cabinet and prime minister and offered posts to his critics, they have refused the jobs because the presidency under Ukraine's constitution holds most of the power.
Mr. Yanukovych has so far refused to discuss any quick changes to the constitution to distribute power more evenly between the presidency and prime minister. On Friday he is expected to meet with Russian President Vladimir Putin in Sochi. Aides to Mr. Yanukovych said that important decisions on formation of a new government are being held up until after that meeting.
WSJ