Lebanon Justice Palace evacuated after bomb scare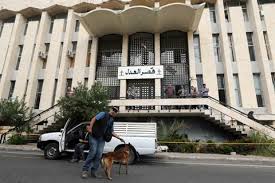 The Justice Palace in Beirut was evacuated on Thursday after receiving a bomb threat that turned out to be a hoax, according media reports which were confirmed by General Prosecutor Judge Samir Hammoud .
"A woman called, she was speaking in a shaky voice, and informed us that a huge explosion will occur at 12:00 p.m.," Hammoud told Voice of Lebanon radio (100.5).
He pointed out that the building was evacuated as security forces took extra measures and began searching for the alleged bomb.
However, Caretaker Justice Minister Shakib Qortbawi said that the the bomb turned out to be a hoax as security forces didn't locate any.
Qortbawi told National News Agency that the phone call only aims at causing fear and intimidation and to spread rumors at the delicate stage that the Lebanese are passing through.
"We ordered the evacuation of the Justice Palace as a safety measure," he pointed out