Hezbollah pushing to replace Salam, report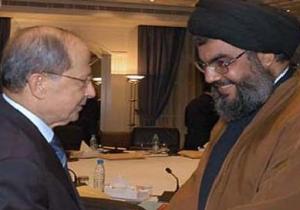 Hezbollah's Al Manar TV reported on Thursday that " political circles are speaking of new parliamentary consultations and saying that those who will form a de facto cabinet will face a de facto situation."
In other words Hezbollah is pushing to replace Prime Minister-designate Tammam Salam.
Former PM Saad Hariri was quoted yesterday as saying that he will rename Salam again to form the new cabinet.
Earlier today Hezbollah called on Salam to ensure the participation of its ally the Free Patriotic Movement in the next government and warned that lack of flexibility on his part risked the formation of a Cabinet that breached the National Pact.
"The current opportunity should not be lost by having someone attempt to play smart and give others justification to challenge the next government's adherence to the National Pact, its constitutionality or weaken its representation of national partnership," said a statement by the Hezbollah parliamentary bloc.
"The formation of a political all-embracing government requires officials to be extra keen and more dynamic in order to overcome obstacles preventing the participation of all political parties based on their weight," Hezbollah MP Hasan Fadlallah, who read the statement, said.
This development comes after reports circulated early morning Thursday pointing to the announcement of a cabinet by Salam on Thursday or no later than Saturday based on 8-8-8 lineup as proposed by Speaker Nabih Berri based on the principle of rotation of portfolios.
Salam wanted to announce the cabinet lineup before president Suleiman leaves to Tunisia , but according to a report by OTV Bkirki rejected the lineup which prevented the announcement from taking place.
FPM leader MP Michel Aoun rejected the the principle of rotation calling it unconstitutional and only aims at stripping his party of the Energy Ministry, currently held by his son-in-law Gebran Bassil.
Hezbollah is trying to convince Aoun to accept the rotation policy in order to avoid a resignation by his ministers from the future Cabinet.
Some March 8 parties are also trying to convince Marada Movement leader Suleiman Franjieh to keep his minister in the new Cabinet even if Aoun's ministers resign in protest.
Hezbollah also confirmed its commitment to the Memorandum of Understanding signed between Aoun and Hezbollah in 2006, implicitly warning that a withdrawal of FPM ministers from the government could force the party to do the same.
"The historical understanding signed in February of 2006 between Hezbollah and the Free Patriotic Movement has successfully passed a number of tests in critical and difficult times due to the honesty that the two parties committed to at the leadership and organizational levels and mutual trust," it said.
Updates: Rumors circulated last night that Bassil would retain the energy portfolio in return for granting the interior portfolio to former ISF chief General Ashraf Rifi , but OTV quoted Future Movement sources as saying saying "they're not aware of any such deal."