Egyptian Army denies report of Sisi running for president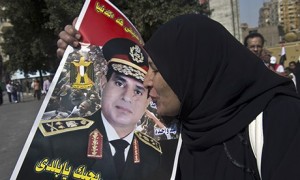 Egypt's army on Thursday denied that Field Marshal Abdel Fattah Sisi had told a Kuwaiti newspaper he was running for president, saying any declaration of his candidacy would be made directly and unequivocally to "the great Egyptian people."
Nonetheless, the story appeared to fit with a drawn-out unveiling of Sisi's intentions, characterized by ever-stronger hints. The field marshal, who led the coup that deposed Islamist president Mohamed Morsi more than seven months ago, would have to relinquish his post as defense minister before formally stating he would run, and a Cabinet reshuffle is thought to be imminent.
Kuwait's Al Seyassah newspaper quoted the field marshal as saying he had no choice but to bow to the will of the people – while stressing that he had no "magic wand" to solve deep-rooted problems like Egypt's devastated economy. The army retorted on its website that the paper had mistakenly extrapolated the remarks as a declaration of candidacy. But it said nothing to quash expectations that Sisi would run.
Unofficially, the campaign has long since begun. Posters of Sisi are ubiquitous across Cairo. Last week, the country's top military council publicly urged the field marshal to run, hours after he was elevated to the country's top military rank. The Egyptian army has a tradition of giving its most senior commanders a promotion before they retire from the military.
Nearly two weeks ago, commemorations of the 2011 uprising that ousted autocratic leader Hosni Mubarak were transformed into a massive official spectacle saluting the field marshal. Even Mubarak, now on trial, is said to be a Sisi admirer.
Sisi has in effect been running the country since the coup, which came after massive demonstrations calling for the ouster of Islamist Mohamed Morsi, Egypt's first democratically elected leader. The rejoicing that greeted Morsi's removal rapidly coalesced into a cult of personality surrounding Sisi.
A Sisi candidacy – and almost certain victory – would represent a reversion to Egypt's decades-long tradition of career military men as rulers. But the interim government has sought to dispel any notion it is diverging from the democratic transition it has promised. Interim President Adly Mansour told a state-owned newspaper this week that Egypt's age of "pharaoh" presidents is over.
The fervent admiration of Sisi is partly rooted in fear. With an Islamist insurgency rapidly spreading from the Sinai peninsula to Egypt's heartland cities, including the capital, many Egyptians believe that he is the only one who can provide stability and security. The militant group Ansar Bayt al-Maqdis has claimed responsibility for a string of sophisticated attacks, including the bombing late last month of a Cairo police headquarters that killed six people.
Heading into elections, little meaningful political opposition is in place. The once-powerful Muslim Brotherhood, Morsi's Islamist movement, is in tatters. More than 1,000 of its supporters have been killed by security forces, and thousands more are in jail, including Morsi and virtually all of his top lieutenants. But even after a months-long crackdown, the Brotherhood can still bring protesters into the streets, where police sometimes wield lethal force against them.
Egypt has come under concerted criticism from human rights groups for a variety of authoritarian measures adopted in the wake of the coup. Curbs on freedom of assembly and expression have drawn international objections, particularly the jailing of journalists, including foreign ones.
On a European tour this week, Foreign Minister Nabil Fahmy was chided at every stop over the detention since Dec. 29 of three journalists working for the news channel Al Jazeera English. They, along with 16 colleagues, are accused of terror-related offenses.
LA Times