2 killed 3 injured in a suicide bombing in Choueifat, updates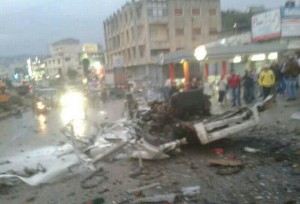 A suicide bomber killed himself and one other person when he detonated explosives in a van on a highway in Choueifat , a southern Beirut suburb on Monday, a Lebanese security source said.
National News Agency reported that the explosion went off inside the van near the al-Rishani gas station in Choueifat.
Lebanese television footage showed the chassis of a vehicle with no roof. Smoke rose in the air and debris lay on a street. Body parts, including a head, were on the road.
VOL reported that the van that exploded is owned by a member of the Msheik family who transports passengers from Choueifat to Dahiyeh. The van has a genuine red license plate.
Al-Mayadeen quoting Red Cross sources :" Human remains belonging to one person were found at the Choueifat explosion scene and three wounded people were rushed to hospitals."
The target of the attack was not immediately clear. Two bombs in January hit residential areas of Beirut where the Shi'ite militant Hezbollah group has a strong presence.
Lebanon is reeling from the fallout of Syria's civil war next door. Hezbollah has sent fighters to support Syrian President Bashar al-Assad against majority Sunni Muslim rebels.
Lebanese and Syria Sunni militants supportive of the Syrian uprising have targeted Hezbollah areas with attacks, including a bomb attack on Sunday in the northern Shi'ite town of Hermel.
Updates: The van driver, Hussein Dib Msheik is currently undergoing a surgical operation at the Kamal Jumblatt hospital in Choueifat, according to the hospital spokesman .
Caretaker Interior Minister Charbel said that: A suicide bomber entered the passenger van minutes before the explosion in Choueifat.
A Police official in Choueifat reported that Hussein Msheik, owner of the van, questioned the suicide bomber about the swollen appearance of his stomach before he detonated himself.
Al Manar reported that only Msheik was in the car when the suicide bomber detonated the explosives.
Caretaker Interior Minister Charbel told MTV: "So far, only the suicide-bomber was killed in the blast and the van driver Hussein Dib Msheik survived.
Al-Mayadeen reported that the suicide belt weighed between 3 and 5 kilograms.
The US embassy in Beirut condemned the Choueifat bombing.
Reuters/ Agencies